Hoarding Memory: Covering the Wounds of the Algerian War (Hardcover)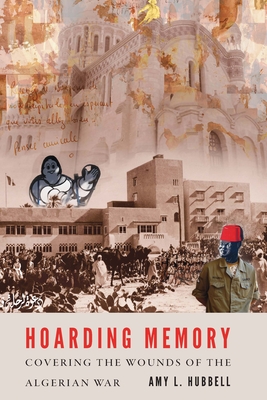 Available to order- email info@loyaltybookstores.com
Description
---
Hoarding Memory looks at the ways the stories of the Algerian War (1954–62) have proliferated among the former French citizens of Algeria. By engaging hoarding as a model, Amy L. Hubbell demonstrates the simultaneously productive and destructive nature of clinging to memory. These memories present massive amounts of material, akin to the stored objects in a hoarder's house. Through analysis of fiction, autobiography, art, and history that extensively use collecting, layering, and repetition to address painful war memories, Hubbell shows trauma can be hidden within its own representation.

Hoarding Memory dedicates chapters to specific authors and artists who use this hoarding technique: Marie Cardinal, Leïla Sebbar, and Benjamin Stora in writing and Nicole Guiraud and Patrick Altes in art. All were born in Algeria during colonial French rule but in vastly different contexts; each suffered personal or inherited trauma from racism, physical or psychological abuse, terrorist or other violent acts of war, and exile in France. Zineb Sedira's artwork is also included as an example of traumatic memory inherited from her parents.

Ultimately this book shows how traumatic experience can be conveyed in a seemingly open account that is compounded and compacted by the volume of words, images, and other memorial debris that testify to the pain.

 
About the Author
---
Amy L. Hubbell is a senior lecturer in French at the University of Queensland. She is the author of Remembering French Algeria: Pieds-Noirs, Identity, and Exile (Nebraska, 2015) and the coeditor of Textual and Visual Selves: Photography, Film, and Comic Art in French Autobiography (Nebraska, 2011).
 
Praise For…
---
"Hubbell's scholarship, at once deeply personal and universal, will interest students and researchers in memory and postcolonial studies, history, and migration studies, also triggering introspection in anyone with a family experience of uprootedness and migration, whether forced or not."—Hélène B. Ducros, EuropeNow

"For scholars of Algerian history, literature, and ethnography, this work makes an important contribution to ongoing debates concerning the sociopolitical and historical challenges in the relationship that France and Algeria continue to endure."—Valérie K. Orlando, author of The Algerian New Novel: The Poetics of a Modern Nation, 1950–1979

"Hoarding Memory brings together literary and cinematic works, historical texts, artistic creations, and personal testimony in a convincing study. The combination of practical information and more literary and philosophical analyses provides a balanced perspective on the compelling questions of trauma and memory examined in this text."—Alison Rice, author of Time Signatures: Contextualizing Contemporary Francophone Autobiographical Writings from the Maghreb