Bitterroot: A Salish Memoir of Transracial Adoption (American Indian Lives ) (Paperback)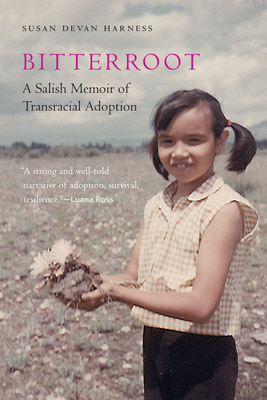 $21.95

Not In Store - Available to special order for pickup or ship. For even speediest shipping we suggest our Bookshop.org page!
Description
---
2019 High Plains Book Award (Creative Nonfiction and Indigenous Writer categories) 
2021 Barbara Sudler Award from History Colorado 

In Bitterroot Susan Devan Harness traces her journey to understand the complexities and struggles of being an American Indian child adopted by a white couple and living in the rural American West. When Harness was fifteen years old, she questioned her adoptive father about her "real" parents. He replied that they had died in a car accident not long after she was born—except they hadn't, as Harness would learn in a conversation with a social worker a few years later.

Harness's search for answers revolved around her need to ascertain why she was the target of racist remarks and why she seemed always to be on the outside looking in. New questions followed her through college and into her twenties when she started her own family. Meeting her biological family in her early thirties generated even more questions. In her forties Harness decided to get serious about finding answers when, conducting oral histories, she talked with other transracial adoptees. In her fifties she realized that the concept of "home" she had attributed to the reservation existed only in her imagination.

Making sense of her family, the American Indian history of assimilation, and the very real—but culturally constructed—concept of race helped Harness answer the often puzzling questions of stereotypes, a sense of nonbelonging, the meaning of family, and the importance of forgiveness and self-acceptance. In the process Bitterroot also provides a deep and rich context in which to experience life.
 
About the Author
---
Susan Devan Harness (Confederated Salish Kootenai Tribes) is a writer, lecturer, and oral historian and has been a research associate for the Tri-Ethnic Center for Prevention Research at Colorado State University. She is the author of Mixing Cultural Identities Through Transracial Adoption: Outcomes of the Indian Adoption Project (1958–1967).
 
Praise For…
---
"What does it mean to be Native when you weren't raised Native? What does it mean when the members of your birth family who remained on the reservation tell you that you were lucky to be raised elsewhere, but you don't feel lucky? Harness brings us right into the middle of these questions and shows how emotionally fraught they can be. . . . It's time everyone learned about the many ways there are of being Native."—Carter Meland, (Minneapolis) Star Tribune
"Harness's memoir tells a story that we are not often told, one that has taken a generation of knowledge from us and held it hostage, trapped in liminal spaces just out of reach, locked in government offices and files. Hers is a story that our old people remember, but cannot tell, and one that our young people need to hear."—Tarren Andrews, 
Transmotion
"Harness has converted her childhood and early adulthood traumas into a story that can save lives.
Bitterroot
will be a soothing balm, an extended hand, to anyone who faces the demons of abuse and trauma and is an authoritative guide to those seeking to understand the historical and social structures that perpetuate the vulnerability of Indigenous children and families today."—Katrina Jagodinsky, 
Oregon Historical Quarterly
"The collective scholarly and political work that Harness's writing has supported and inspired, and now is continuing in her memoir, offers the hope that a more humane approach to transracial adoption—one that works with and learns from Indigenous traditions—is possible."—Lori Askeland, 
Adoption and Culture
"One Salish-Kootenai woman's journey, this memoir is a heart-wrenching story of finding family and herself, and of a particularly horrific time in Native history. It is a strong and well-told narrative of adoption, survival, resilience, and is truthfully revealed."—Luana Ross (Bitterroot Salish), codirector of Native Voices Documentary Film at the University of Washington and author of
Inventing the Savage
"Making sense of her family, the American Indian history of assimilation, and the very real—but culturally constructed—concept of race helped Harness answer the often puzzling questions of stereotypes, a sense of nonbelonging, the meaning of family, and the importance of forgiveness and self-acceptance. In the process Bitterroot also provides a deep and rich context in which to experience life."—
Prairie Edge
"A moving tale of assimilation and cultural search for identity."—Vernon Schmid, 
Roundup Magazine
"Though there is a distinct sense of dissonance throughout the book, Sue still locates pride in her heritage, when all is said and done. And in finding pride in a troubled history, she is more able to combat her own internal conflict. Despite feelings of abandonment and nonbelonging, love and understanding can still prevail."—Victoria Collins, 
Hippocampus Magazine
"As with any good memoirist, Susan Devan Harness intersperses the past with the present to create dramatic tension, relating how her experience as the American Indian adoptee of white parents shaped her understanding of identity, family, and social responsibility."—
House of Books
"
Bitterroot
is an inspiration—one woman's quest to find herself among the racial, cultural, economic, and historical fault lines of the American West. A compelling, important memoir, as tenaciously beautiful as the flower for which it's named."—Harrison Candelaria Fletcher, author of
Presentimiento: A Life in Dreams