Justified (Paperback)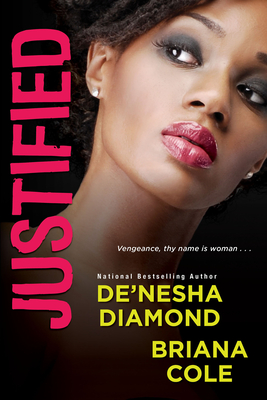 $15.95

On Our Shelves Now - Click to see location, time, and stock details
Description
---
BLACK AND BLUE by DE'NESHA DIAMOND

In one shattering night, Charlie Warren's fiancé is killed, she is attacked—and then framed as part of a police cover-up. Five years later, with nothing to lose, Charlie is free and vengefully exposing their operation, provoking their enemies—and turning the officers against each other. But when a detective gets way too close, Charlie has to decide between getting ultimate justice . . . or going down in a brutal crossfire of betrayal.

PSEUDO by BRIANA COLE

To elude an abusive ex, Kennedy stole several other women's identities. Many new—and luxurious—lives later, she's one of the best con artists in the world. But now one of those women is dead—and Kennedy is in the crosshairs. She'll need to pull off one crucial, flawless deception before a merciless adversary takes her, and her glamorous unreal life, out for good.

About the Author
---
National Bestselling author De'nesha Diamond has written dozens of books and her Divas series was featured in Essence Magazine. The Divas series has been described as a hard-hitting tale of crime in Memphis. Her writing has been featured in a myriad of national publications. The new Parker Crime series tackles D.C.'s dirty politicians. De'nesha is from Memphis but lives in Georgia.

Briana Cole is an acclaimed author, motivational speaker, sex educator and actress. Her novels are known for exploring unconventional relationships and making readers question all expectations about love, lust, and monogamy. An Atlanta native, she graduated cum laude from Georgia Southern University and is a proud member of the Delta Sigma Theta Sorority. Her motto and ultimate drive toward success is a famous quote from Mae West: "You only live once, but if you do it right, once is enough." Connect with Briana online at BrianaCole.com, and on Facebook, Goodreads, Instagram, and Twitter @BColeAuthor.