Never Caught: The Washingtons' Relentless Pursuit of Their Runaway Slave, Ona Judge (Hardcover)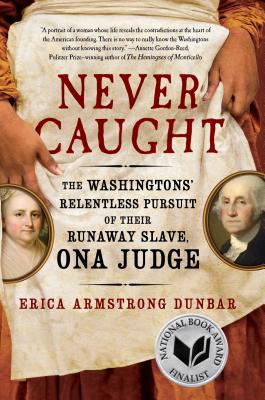 Description
---
Finalist for the National Book Award for Nonfiction

"A fascinating and moving account of a courageous and resourceful woman. Beautifully written and utilizing previously untapped sources it sheds new light both on the father of our country and on the intersections of slavery and freedom." —Eric Foner, Pulitzer Prize-winning author of The Fiery Trial and Gateway to Freedom

A startling and eye-opening look into America's First Family, Never Caught is the powerful narrative of Ona Judge, George and Martha Washington's runaway slave who risked everything to escape the nation's capital and reach freedom.

When George Washington was elected president, he reluctantly left his beloved Mount Vernon to serve in Philadelphia, the temporary seat of the nation's capital. In setting up his household he took Tobias Lear, his celebrated secretary and eight slaves, including Ona Judge, about whom little has been written. As he grew accustomed to Northern ways, there was one change he couldn't get his arms around: Pennsylvania law required enslaved people be set free after six months of residency in the state. Rather than comply, Washington decided to circumvent the law. Every six months he sent the slaves back down south just as the clock was about to expire.

Though Ona Judge lived a life of relative comfort, the few pleasantries she was afforded were nothing compared to freedom, a glimpse of which she encountered first-hand in Philadelphia. So, when the opportunity presented itself, Judge left everything she knew to escape to New England. Yet freedom would not come without its costs.

At just twenty-two-years-old, Ona became the subject of an intense manhunt led by George Washington, who used his political and personal contacts to recapture his property.

With impeccable research, historian Erica Armstrong Dunbar weaves a powerful tale and offers fascinating new scholarship on how one young woman risked it all to gain freedom from the famous founding father.
About the Author
---
Erica Armstrong Dunbar is the Charles and Mary Beard Professor of History at Rutgers University. Her first book, A Fragile Freedom: African American Women and Emancipation in the Antebellum City, was published by Yale University Press in 2008. Her second book, Never Caught: The Washingtons' Relentless Pursuit of Their Runaway Slave, Ona Judge was a 2017 finalist for the National Book Award in nonfiction and a winner of the 2018 Frederick Douglass Book Award. She is also the author of She Came to Slay, an illustrated tribute to Harriet Tubman, and Susie King Taylor and is the co-executive producer of the HBO series The Gilded Age.
Praise For…
---
"A fascinating and moving account of a courageous and resourceful woman. Beautifully written and utilizing previously untapped sources, it sheds new light both on the father of our country and on the intersections of slavery and freedom in the flawed republic he helped to found."

— Eric Foner, Pulitzer Prize-winning author of The Fiery Trial and Gateway to Freedom

"Never Caught is the compelling story of Ona Judge Staines, the woman who successfully defied George and Martha Washington in order to live as free woman. With vivid prose and deep sympathy, Dunbar paints a portrait of woman whose life reveals the contradictions at the heart of the American founding: men like Washington fought for liberty for themselves even as they kept people like Ona Staines in bondage. There is no way to really know the Washingtons without knowing this story."
— Annette Gordon Reed, Pulitzer Prize-winning author of The Hemingses of Monticello

"A crisp and compulsively readable feat of research and storytelling."
— USA Today

"Totally engrossing and absolutely necessary for understanding the birth of the American Republic, Never Caught is richly human history from the vantage point of the enslaved fifth of the early American population. Here is Ona Judge's (successful) quest for freedom, on one side, and, on the other, George and Martha Washington's (vain) use of federal power to try to keep her enslaved."
— Nell Irvin Painter, author of Sojourner Truth, A Life, A Symbol

"Dunbar has teased out Ona Judge from the shadows of history and given us a determined woman who rejected life as a slave in the comfortable household of George Washington for the risks of freedom . We see Washington -- a man torn by conflicting sentiments about slavery -- in a new and ambiguous light, and plunge with Judge into the teeming cities of the young republic, where for the first time Americans are beginning to grapple with the contradiction between the Founders' ideals and the unyielding fact of slavery. No one who reads this book will think quite the same way about George and Martha Washington again."
— Fergus M. Bordewich, author of The First Congress

"Dunbar brings to life the forgotten story of a woman who fled enslavement from America's First Family. Her mostly Northern story is a powerful reminder that the tentacles of slavery could reach from the South, all the way to the state of New Hampshire. The surprising part of this true history is not that she achieved her freedom, but the lengths to which George and Martha Washington would go to try to recapture a young woman who insulted them by rejecting bondage."
— Gretchen Holbrook Gerzina, Dean of Commonwealth Honors College and author of Mr & Ms. Prince

"In this riveting and thoroughly researched account of the life of Ona Judge Staines, historian Erica Armstrong Dunbar carefully and compellingly constructs enslaved life inside The President's House and in the larger urban and rural communities of the time. A true page-turner, readers will come away with a deeper appreciation of enslaved people's lives and a disturbing portrait of George and Martha Washington as slave owners. This book will change the way we study the history of slavery in the U.S, the history of American Presidents, and especially the burgeoning field of black women's history."
— Daina Ramey Berry, Historian at the University of Texas at Austin and author of The Price for Their Pound of Flesh

"With the production of the Tony-award winning play, Hamilton, many Americans have been reminded of the noble actions of the nation's fathers and mothers in birthing a new country founded on democracy, liberty, and freedom. In Never Caught historian Erica Armstrong Dunbar pulls back the curtain on their individual actions by focusing on Ona Judge, an enslaved woman owned by Martha and George Washington, who stole herself to freedom and refused to be reenslaved. Piecing together the fragments of a life, in vivid prose, Dunbar reminds us of the tremendous toll slavery visited on men and women of conscience and conviction, both black and white. This is a must read for anyone interested in this nation's long pursuit of perfecting freedom."
— Earl Lewis, President of The Andrew W. Mellon Foundation

"A startling, well-researched . . . narrative that seriously questions the intentions of our first president."
— Kirkus Reviews

"There are books that can take over your life: Try as you might, you can't seem to escape their mysterious power. That's the feeling I had when reading the tour de force, Never Caught."
— Essence Magazine

"[Dunbar] sketches an evocative portrait of [Ona's] daily life, both before and after her risky escape. For the reader, as for Judge, George Washington the Founding Father takes a back seat to George Washington the slave master.
— Pacific Standard Magazine

"Dunbar weaves an unforgettable story about a courageous woman willing to risk everything for freedom."
— Real Simple

"Erica Armstrong Dunbar combines the known facts of Ona's life in service to the Washingtons with vivid descriptions of the physical and emotional conditions early American slaves faced."
— New York Post

"Compulsively readible"
— USA Today

"A valuable addition to African-American history, Never Caught pays a triple dividend."
— Richmond-Times Dispatch

"A story of extraordinary grit."
— The Philadelphia Inquirer

Never Caught is a gripping story of courage of a black slave woman who sacrificed many things including her family to gain freedom. Never Caught shows freedom is more important than anything else. What makes Never Caught uniquely interesting and important is that this is one of the rare narratives from a black woman slave. It also shines light on the dark corners of American history and the first Family, the Washingtons.
— Washington Book Review