Outsiders Within: Writing on Transracial Adoption (Paperback)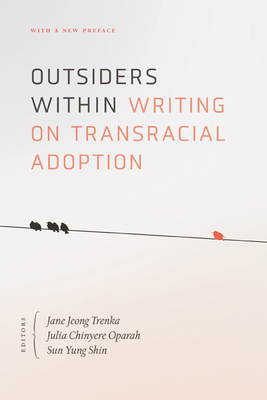 Description
---
Confronting trauma behind the transnational adoption system—now back in print

Many adoptees are required to become people that they were never meant to be. While transracial adoption tends to be considered benevolent, it often exacts a heavy emotional, cultural, and economic toll on those who directly experience it. Outsiders Within is a landmark publication that carefully explores this most intimate aspect of globalization through essays, fiction, poetry, and art. Moving beyond personal narrative, transracially adopted writers from around the world tackle difficult questions about how to survive the racist and ethnocentric worlds they inhabit, what connects the countries relinquishing their children to the countries importing them, why poor families of color have their children removed rather than supported—about who, ultimately, they are. In their inquiry, the contributors unseat conventional understandings of adoption politics, reframing the controversy as a debate that encompasses human rights, peace, and reproductive justice.

Contributors: Heidi Lynn Adelsman; Ellen M. Barry; Laura Briggs, U of Massachusetts, Amherst; Catherine Ceniza Choy, U of California, Berkeley; Gregory Paul Choy, U of California, Berkeley; Rachel Quy Collier; J. A. Dare; Kim Diehl; Kimberly R. Fardy; Laura Gannarelli; Shannon Gibney; Mark Hagland; Perlita Harris; Tobias Hübinette, Stockholm U; Jae Ran Kim; Anh Đào Kolbe; Mihee-Nathalie Lemoine; Beth Kyong Lo; Ron M.; Patrick McDermott, Salem State College, Massachusetts; Tracey Moffatt; Ami Inja Nafzger (aka Jin Inja); Kim Park Nelson; John Raible; Dorothy Roberts, Northwestern U; Raquel Evita Saraswati; Kirsten Hoo-Mi Sloth; Soo Na; Shandra Spears; Heidi Kiiwetinepinesiik Stark; Kekek Jason Todd Stark; Sunny Jo; Sandra White Hawk; Indigo Williams Willing; Bryan Thao Worra; Jeni C. Wright.
About the Author
---
Jane Jeong Trenka is author of The Language of Blood and Fugitive Visions.

Julia Chinyere Oparah is Provost and Dean of the Faculty at Mills College and author or editor of several books, including Birthing Justice: Black Women, Pregnancy, and Childbirth and Battling Over Birth. 

Sun Yung Shin is editor of A Good Time for the Truth: Race in Minnesota and author of Unbearable Splendor; Rough, and Savage; and Skirt Full of Black.
Praise For…
---
"An eye-opening perspective. . . . Anyone contemplating transracial adoption will find provocative ideas."—Publishers Weekly
"Provides profound insight into what it's like to be adopted from another race or into another nation."—Library Journal
"A valuable resource for those who believe that transracial, often international, adoption cannot be a curative measure—in the slightest—for the inequalities which stain the human experience."—Seven Oaks Magazine Review
"Outsiders Within is not the first book to explore the experience of being adopted across racial lines, but is perhaps the most challenging and ambitious to date."—American Adoption Congress Decree