Bad Men and Wicked Women (Paperback)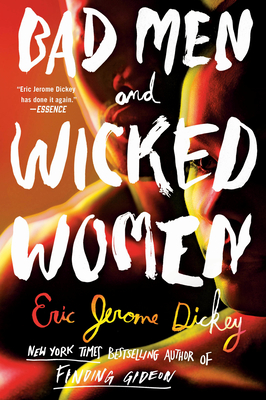 $17.00

On Our Shelves Now - Click to see location, time, and stock details
Description
---
Affairs of the heart can be lethal in this sensual, action packed novel from New York Times bestselling author Eric Jerome Dickey.

As a low-level enforcer in Los Angeles, Ken Swift knows danger, but nowhere does he feel it more than in his tangled romances. Divorced from one woman, in love with another, and wrestling with a strong desire to get to know a third, his life is far from perfect, and it becomes all the more complicated when his troubled daughter resurfaces on the same day as a major job. Margaux is pregnant, bitter, and desperate: she needs $50,000 immediately, and she isn't above blackmailing Ken to get it. Yet even as the tension-filled father/daughter reunion escalates into a clashing of wills and desires that spread far beyond their family, Ken's latest contract spirals quickly out of control, and he finds it is not only his daughter looking to seek revenge.

With the strong characters, heart-pounding action, and intense passion he is known for, New York Times bestseller Eric Jerome Dickey lays bare a tale of lust and angst that will leave readers breathless.
About the Author
---
Eric Jerome Dickey (1961–2021) was the award-winning and New York Times bestselling author of twenty-nine novels, as well as a six-issue miniseries of graphic novels featuring Storm (X-Men) and the Black Panther. His novel Sister, Sister was honored as one of Essence's "50 Most Impactful Black Books of the Last 50 Years," and A Wanted Woman won the NAACP Image Award in the category of Outstanding Literary Work in 2014. His most recent novels include The Blackbirds, Finding Gideon, Bad Men and Wicked Women, Before We Were Wicked, The Business of Lovers, and The Son of Mr. Suleman.
Praise For…
---
Praise for Bad Men and Wicked Women

"Quentin Tarantino's Pulp Fiction comes to mind as Swift and Ellis cruise through Los Angeles's wealthy neighborhoods debating issues of racism, inner-city poverty, and the lingering effects of slavery....Suspense builds with an action-packed finale, and Dickey's many fans will eagerly consume this."—Library Journal

"Dickey sets in motion a fascinating cast of characters and creates compelling arcs for their stories....Readers will be cheering for the kindhearted Ken and his family in this dark yet ultimately hopeful novel."—Booklist

"Perennial New York Times bestselling author Eric Jerome Dickey has done it again."—Essence

"Eric Jerome Dickey is the best thing going in fiction now in terms of writing stories that blend action with sensuality....Dickey's penchant for creating fiction that resonates with the forbidden overtakes us—these elements of danger and lust dominating each and every passage. At its best moments, Bad Men and Wicked Women recalls bits and pieces of the famed HBO series The Sopranos as we come to drench ourselves in the types of secrets many families harbor, but seldom share."—Electric Review 

"Larger-than-life scenarios are near-hallmarks in a Dickey novel, and nobody does them better....Bad Men and Wicked Women is thick with thrills."—Bookwormsez

More Praise for Eric Jerome Dickey 

"Dickey's fans flock to his readings....He's perfected an addictive fictional formula."—The New York Times

"Dickey has the knack for creating characters who elicit both rage and sympathy."—Entertainment Weekly

"Eric Jerome Dickey's work is a master class in Black joy....[his] characters—bold, smart women oozing sexuality and vulnerability—navigate interpersonal conflicts using dialogue that crackles with authenticity."—The Atlantic