A Wish in the Dark (Paperback)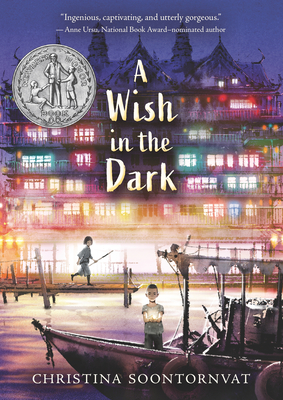 $8.99

On Our Shelves Now - Click to see location, time, and stock details
Staff Reviews
---
I love this book for middle grade readers, a twist on the Les Misérables story set in a fantasy world inspired by Thai culture, with my whole heart! It takes place in a richly imagined magical world, yet it's laced with real world issues like inequality, poverty, and juvenile incarceration without ever feeling like it's Teaching A Lesson. Readers of any age will find themselves gripped by Soontornvat's worldbuilding, clear & lovely prose, and delightful characters (who Les Miz fans may recognize, but who have backstories and charm that's entirely their own). We could all take some inspiration from this band of plucky youngsters as they risk everything in a brave attempt to rectify injustice in their society.
— Amy
Spring 2020 Kids Indie Next List
---
"In a world where light is a commodity, Pong has grown up seeking a way out of the darkness. A desperate escape from the prison where he was born leads him to a life on the run, and he will need the help of old friends, new enemies, a generous monk, and all the inner strength he can muster to find his way home. This incandescent novel will fulfill the wishes of many a middle-grade reader seeking something new and wonderful."
— Melissa Posten, The Novel Neighbor, Webster Groves, MO
Description
---
A 2021 Newbery Honor Book

A boy on the run. A girl determined to find him. A compelling fantasy looks at issues of privilege, protest, and justice.

All light in Chattana is created by one man — the Governor, who appeared after the Great Fire to bring peace and order to the city. For Pong, who was born in Namwon Prison, the magical lights represent freedom, and he dreams of the day he will be able to walk among them. But when Pong escapes from prison, he realizes that the world outside is no fairer than the one behind bars. The wealthy dine and dance under bright orb light, while the poor toil away in darkness. Worst of all, Pong's prison tattoo marks him as a fugitive who can never be truly free.

Nok, the prison warden's perfect daughter, is bent on tracking Pong down and restoring her family's good name. But as Nok hunts Pong through the alleys and canals of Chattana, she uncovers secrets that make her question the truths she has always held dear. Set in a Thai-inspired fantasy world, Christina Soontornvat's twist on Victor Hugo's Les Misérables is a dazzling, fast-paced adventure that explores the difference between law and justice — and asks whether one child can shine a light in the dark.
About the Author
---
Christina Soontornvat grew up in a small Texas town, where she spent many childhood days behind the counter of her parents' Thai restaurant with her nose in a book. She is the author of many books for young readers, including The Last Mapmaker, a Newbery Honor Book as well as a Walter Dean Myers Honor Book for Teen Readers. She is also the author of the Newbery Honor Books A Wish in the Dark and All Thirteen: The Incredible Cave Rescue of the Thai Boys' Soccer Team, also a Robert F. Sibert Honor Book and a YALSA Award for Excellence in Nonfiction for Young Adults finalist. Christina Soontornvat lives in Austin, Texas.
Praise For…
---
It's a novel—a stand- alone, no less—that seems to have it all: a sympathetic hero, a colorful setting, humor, heart, philosophy, and an epic conflict that relates the complexity and humanity of social justice without heavy-handed storytelling. Soontornvat deftly blends it all together, salting the tale with a dash of magic that enhances the underlying emotions in this masterfully paced adventure. An important book that not only shines a light but also shows young readers how to shine their own. Luminous.
—Booklist (starred review)

Set in a fantasy analogue of Thailand, all characters are presumed Thai, and Thai life and culture permeate the story in everything from the mangoes Pong eats in prison to the monks he meets beyond the prison's walls. It's also a retelling of Victor Hugo's Les Misérables, and Soontornvat has maintained the themes of the original while making the plot and the characters utterly her own. Pong's and Nok's narratives are drawn together by common threads of family, loyalty, and a quest to define right and wrong, twining to create a single, satisfying tale. A complex, hopeful, fresh retelling.
—Kirkus Reviews

Soontornvat artfully builds up to a triumphant confrontation, weaving in important themes about oppression and civil disobedience along the way.
—Publishers Weekly

Nuanced questions of morality, oppression, and being defined by one's circumstances are compounded with exciting action in this novel inspired by Victor Hugo's Les Misérables. The characters are resonant, and the action is enhanced by the fantastical Thailand-like setting. The original storyline and well-developed characters make this a standout novel. ­Highly recommended.
—School Library Journal

Combining themes of coming-of-age, protest, and the power of freedom, this book will inspire young readers to stand up for their own beliefs as well as those of all people. This is a thought-provoking adventure that will cause readers to ask themselves whether being safe or having freedom is the better option, and if that needs to be a choice at all.
—School Library Connection

The rich, atmospheric Thai-inspired settings ground Pong and Nok's journeys toward self-understanding, from bleak Namwon to the peaceful temple Wat Singh to Chattana's bustling, colorful Light Market...The novel offers satisfying meditations on moral choices as well as age-friendly openings into conversations about prison pipelines, autocracy, and socio-political action.
—Bulletin of the Center for Children's Books

Alternating between Pong's and Nok's stories, Soontornvat tells a satisfyingly intricate tale of escape and chase while raising questions about institutionalized injustices of privilege and want. Her Thai-inspired world is fully engaging, but perhaps most winning is the innocence, hope, and humor she conveys in the context of the struggle for social justice and with respect to the children's growth.
—The Horn Book

A thrilling fantasy, set in a fresh, original world, with a vital message at its heart. A Wish in the Dark is incandescent.
—Adam Gidwitz, Newbery Honor–winning author of The Inquisitor's Tale

At once timeless and timely, Christina Soontornvat's A Wish in the Dark is a richly imagined portrait of the power of hope, courage, and compassion to shine a light in dark times and the ability of small people to effect great change. Ingenious, captivating, and utterly gorgeous.
—Anne Ursu, National Book Award–nominated author of The Real Boy

Do you hear the people sing? Christina Soontornvat's Les Misérables-inspired A Wish in the Dark will have readers cheering for Pong, the young boy who escapes a life of unfair imprisonment, discovers the powers of friendship and forgiveness, and raises his voice against oppression. I was swept away by the Thai setting, the Buddhist teachings of Father Cham, and the sheer grit and determination of these young characters. At the heart of this novel, like Victor Hugo's, are the struggle for justice and the power of marginalized communities to change our world for the better. Young readers will be rooting for Pong and his band of revolutionary friends and inspired to spread more light in their own communities.
—Sayantani DasGupta, New York Times best-selling author of the Kiranmala and the Kingdom Beyond books