Sink: A Memoir (Paperback)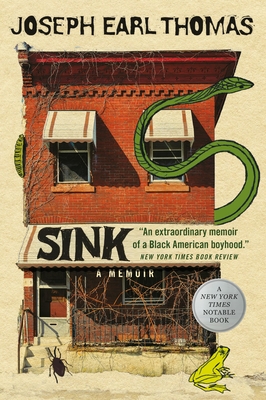 $18.99

Coming Soon - Available for Pre-Order Now
Description
---
A wrenching, redemptive, and "brilliant coming-of-age story" (New York Times) about the difficulty of growing up in a hazardous home and the glory of finding salvation in geek culture, now in paperback.

Surrounded by the failure of systems including his family, the public school system, and democratic society, Joseph Earl Thomas grew up feeling like he was under constant threat. Roaches fell from the ceiling, most lessons were taught through violence, and, to make matters worse, he always seemed to be hungry. To escape these foes, he began retreating inward. In Sink, Thomas queries the possibility of escape through fantasy worlds, while grappling with children's inability to change their circumstances. 
 
In a series of exacting and fierce vignettes, Thomas guides readers through the trouble of cruelty without heroics or reprieve and explores how the cycle of hostility permeates our environments. And yet even in the depths of isolation, there are unexpected moments of joy carved out as Thomas finds kinship. Sink follows Thomas's coming-of-age towards an understanding of what it means to lose the desire to fit in and how good it feels to build community, love, and salvation on your own terms.
About the Author
---
Joseph Earl Thomas is a writer from Frankford whose work has appeared or is forthcoming in VQR, N+1, Gulf Coast, The Offing, and The Kenyon Review. He has an MFA in prose from The University of Notre Dame and is a doctoral candidate in English at the University of Pennsylvania. An excerpt of his memoir, Sink, won the 2020 Chautauqua Janus Prize and he has received fellowships from Fulbright, VONA, Tin House, and Bread Loaf. He's writing the novel God Bless You, Otis Spunkmeyer, and a collection of stories: Leviathan Beach, among other oddities. He is an associate faculty member at The Brooklyn Institute for Social Research, as well as the Director of Programs at Blue Stoop in Philadelphia.  
Praise For…
---
"Thomas really does accomplish the extraordinary…[He] has constructed a sort of alchemy on the page, but one born of experience, from skill and from a trust about what will end up on the other side…perhaps one of the biggest boons of Sink is its insistence that care is, above all, shared. It is everyone's prerogative. In this way, Thomas has earned a deep bow."—New York Times Book Review

"For the reader, third-person narration creates a buffer to a brutal coming of age, and perhaps allows Thomas enough distance from his trauma to bravely expose the vulnerability and resilience of his youth."—Washington Post

"Thomas is a skilled prose stylist, and Sink is loaded with arresting imagery and insights into the eerie space between claustrophobia and freedom unique to childhood."—Vulture

"[A] distressing, inventive, and often sublime memoir."—Philadelphia Inquirer

"A crucial, incomparable act of creation and undefeated imagination."—Booklist

"Joseph Earl Thomas has created a narrative that reads like a request and loving demand. Sink is a new kind of memoir, remixing the best parts of the genre. Though cohesive, the chapters in Sink are brilliant and brilliantly different. Thomas uses the act and politics of oration to move us within the silences of desire. It's the way Thomas narrativizes encounters that make this book different than any memoir I've read, but also, so more propellant than any memoir in recent years. It is criminal and absolutely delicious that Sink is a literary debut. It is stunning in its audacious goodness." —Kiese Laymon, award-winning author of Heavy

"Sink is a singular memoir; all blood and nerve and near-unbearable beauty. A brilliant and fucking fearless debut."—Carmen Maria Machado, award-winning author of In the Dream House

"Joseph Earl Thomas's Sink is a powerful, moving, and artful testament to the sustaining powers of the imagination. This compelling coming-of-age memoir is often brutal but also loving; it's at turns critical, empathic, funny; it's searching and revelatory the whole way through. Joey is a narrator for the ages, a boy whose unforgettable story dares expanding the possibilities of Black male identity."—Mitchell S. Jackson, award-winning author of Survival Math

"Joseph Earl Thomas has written an astonishing book. It's his debut, but he's already a master. Somehow Sink recreates the state of childhood—its immense cruelty and immense promise. This book is for Joey, coming of age in northeast Philly in the late '90s: his video games and secret drawings, his longing, loneliness, and anger, his snakes and pet alligator and what happened, the roaches spilling out of the cereal box, the brutal trap of masculinity, the violence of family and smell of drugs through the door, every moment that lacked hope, every sweetness of imagination. Books like this remind us why we need books so much. With such tenderness, fury, and wisdom, Sink dreams a world beyond this one, shows us how to live there."—Hilary Plum, author of Hole Studies

"I want this book for my younger self, to see the ideas and embodiments of Blackness and masculinity extended in these wonderful ways that allow space for nerdiness, nature, softness, and imagination with a rich interior life. This memoir has the power to keep shifting cultures and conversations into other worlds that are at first imagined, then made real. Sink is a visionary memoir."—Steven Dunn, author of Potted Meat

"Sink is a book to read slowly and savor. With devastating, gorgeously-wrought candor, Joseph Earl Thomas plumbs the depths of his childhood to understand how his family's ideas of masculinity and loneliness shaped him. Through it all, Thomas insists on a buoyant resilience, reminding us that with a tender-hearted fierceness, it is possible to stay afloat."
 —Kat Chow, author of Seeing Ghosts

" In his debut, Thomas announces his unusual approach to memoir in the first sentence: written in third person and including both real and imagined characters. . . It takes rare courage to tell a story this harsh and unredeemed."—Kirkus

"[A] wrenching debut. . .Thomas's prose delivers an emotional gut punch. . .The result is a lyrical exploration of identity and survival."—Publishers Weekly