A Love Song for Ricki Wilde (Hardcover)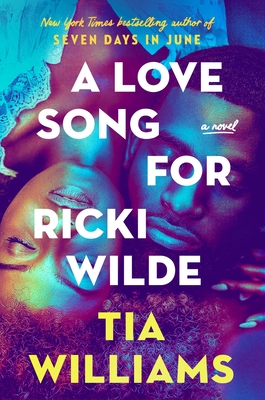 $29.00

Coming Soon - Available for Pre-Order Now
Description
---
In this enchanting love story from the New York Times bestselling author of Seven Days in June, a free-spirited florist and an enigmatic musician are irreversibly linked through the history, art, and magic of Harlem.

Leap years are a strange, enchanted time. And for some, even a single February can be life-changing.

Ricki Wilde has many talents, but being a Wilde isn't one of them. As the impulsive, artistic daughter of a powerful Atlanta dynasty, she's the opposite of her famous socialite sisters. Where they're long-stemmed roses, she's a dandelion: an adorable bloom that's actually a weed, born to float wherever the wind blows. In her bones, Ricki knows that somewhere, a different, more exciting life awaits her.

When regal nonagenarian, Ms. Della, invites her to rent the bottom floor of her Harlem brownstone, Ricki jumps at the chance for a fresh beginning. She leaves behind her family, wealth, and chaotic romantic decisions to realize her dream of opening a flower shop. And just beneath the surface of her new neighborhood, the music, stories and dazzling drama of the Harlem Renaissance still simmers.

One evening in February as the heady, curiously off-season scent of night-blooming jasmine fills the air, Ricki encounters a handsome, deeply mysterious stranger who knocks her world off balance in the most unexpected way.  

Set against the backdrop of modern Harlem and Renaissance glamour, A Love Song for Ricki Wilde is a swoon-worthy love story of two passionate artists drawn to the magic, romance, and opportunity of New York, and whose lives are uniquely and irreversibly linked. 
About the Author
---
Tia Williams had a fifteen-year career as a beauty editor for magazines including Elle, Glamour, Lucky, Teen People, and Essence. In 2004, she pioneered the beauty-blog industry with her award-winning site, Shake Your Beauty. She wrote the bestselling debut novel The Accidental Diva and penned two young adult novels, It Chicks and Sixteen Candles. Her award-winning novel The Perfect Find is a Netflix movie starring Gabrielle Union. Her latest novel is New York Times bestseller and Reese Witherspoon Bookclub pick, Seven Days in June, published by Grand Central.
 
Tia currently lives with her daughter and her husband in Brooklyn.
 
Praise For…
---
Praise for A Love Song for Ricki Wilde 
"Tia Williams brilliantly captures the magic and romance of Harlem—past and present—while giving us a heroine we can all root for. I adore Ricki Wilde and was utterly enchanted by this epic love story. Prepare to be transported!"—
Emily Giffin, New York Times bestselling author of "Meant to Be"
"This book reads like the best kind of love song: tender, smart and undeniably sexy. Tia Williams simply doesn't miss."—
Leah Johnson, bestselling author of "You Should See Me in a Crown"
"Tia Williams writes instant classics, and 
A Love Song for Ricki Wilde
 is the perfect vehicle to demonstrate the rare range and insight that make her writing so special. At turns punchy and poignant, sweeping and yet so intimate, this story will steal your heart and surprise you. Make you ache. Make you laugh and cry and yearn. As Williams' most ambitious work to date with layers of romance and heartache and history and magic tucked between these pages, it is your next book of the year."—
Kennedy Ryan, bestselling author of "Before I Let Go"
"An enigmatic, enchanting, absolute gift of a love story that transcends time, place, and realm. Williams never ceases to surprise and delight!"—
Robinne Lee, author of "The Idea of You"
"Elegantly blending past and present, romance and fantasy, Williams (
Seven Days in June
) delivers a gorgeous, transportive love letter to the Harlem Renaissance. What begins as a simple romance is elevated by rich history as the story flashes back through Harlem's past, revealing both its glamor and its danger. This vast time span creates an epic feel that never overpowers the tender heat of the romance. It's a showstopper."—
Publishers Weekly
"[
A Love Song for Ricki Wild
e] is both a love letter to Harlem and a recognition of its history that gentrification cannot erase."—
Library Journal
Praise for Seven Days in June - 
A
New York Times
bestseller and a
Reese Witherspoon Book Club Pick!
"[Seven Days in June is] filled with important observations and tidbits about Black life, giving the reader something that goes a step beyond the basic rom-com format."
—
USA Today
"While this is a sumptuous, fun, romantic story about two authors who reunite at a conference, it's also an ode to anyone who goes through life wishing they were more normal."
—
Good Morning America
"Steamy."
—
Essence
"Gutting, arousing, and sparklingly witty… a love story with depth."—
Vogue
"This summer's best romance ... very well-rendered and plenty satisfying."—
Los Angeles Times
"An intense romance between troubled teens reignites when Eva and Shane reconnect years later as superstar authors. Full of wit, warmth, and passion."—
People
"Tia's prose reads like you're talking to a friend, like someone's sitting next to you divulging all their deepest, darkest, funniest secrets, and you want to share them right back with her."—
Entertainment Weekly
"
Seven Days in June
is about the intoxicating, all-consuming power of first love, of young love, but it's also about the deepening and complicated love between two people who run into each other years later, hearts still tender and bruised, and recognize that their feelings for one another have become something even stronger with time."—
Vulture
"Williams' complex, developed characters dive into the highs and lows of Black life, sexism in publishing, living with an invisible disability, and self- harm, among other topics.
Seven Days in June
is a dynamic contemporary romance novel that packs a powerful punch."—
Seattle Times
"This is a captivating and compulsive read."
 —
Winston-Salem Journal
"Tia Williams is kicking off the summer hot and heavy with
Seven Days in June
, which is sure to give us all the Black romance genre feels we deserve."—
Ebony
"One of the most anticipated romance novels of the summer ... Eva and Shane's story gets steamy, so be sure to read by the water so you can cool off."
 —
Oprah Daily
"It's Black without apology, qualification, or race-related tragedy ... It's rarer than you think. It's been a while since I read a book I was delighted by—a book that made me smile wide for no reason, because of how touching or cute it is."—
New York Magazine's The Strategist
"Readers will delight in the opportunity to become a part of Eva's world, in a novel that seamlessly weaves young love, true love, addiction, pain, and hope."—
Shondaland
"Very steamy."—
The Skimm
"If this cover doesn't raise your temperature a few degrees, the story will. Grab a fan before reading this one, because it really heats up."—
Good Housekeeping
"A hugely satisfying romance that is electrifying and alive."—
Kirkus
"What's on its face is a delightfully steamy read is a story layered with nuance that gracefully examines thornier topics of parenting in the modern age, life with chronic pain, and Black identity. Through it all, Williams' clever and witty writing will leave you clamoring to be part of Mercy's world."—
Reader's Digest
"Through this gripping love story, Williams reckons with family histories and shows the power in rewriting our origin stories. Readers will feel as attached to these characters as Eva and Shane are to each other."—
BookPage
"Williams doesn't shy away from the darker aspects of human experience, and her characters are fully formed and believable as a result. This is a winning romance."—
Publishers Weekly
"Williams proves once again that there is much more to romance novels than meet-cutes and other reliable tropes."—
Booklist
"With funny, snappy writing and a strong eye for detail, Williams builds a compelling, glamorous Black literary world for the protagonists to inhabit. The book balances a second-chance romance with themes of motherhood, childhood trauma, and life with chronic pain."
 —
Library Journal
"Williams' writing is zippy and fun to read, but her characters are also complicated individuals, making their love feel authentic."—
The Week
"Sparkling with delicious sensuality and an intriguing plot,
Seven Days in June
by Tia Williams [is] a captivating contemporary story of romantic connection and love in an unforgiving world, overlaid with challenging themes of poverty, disability, and childhood trauma that the author fearlessly addresses with grace and tenderness. Williams skillfully blends uplifting, hilarious moments into the story through a sensational supporting cast."
 —
Shelf Awareness
"Steamy as all get-out but also laugh-out-loud funny."—
Scary Mommy
"This story is so much more than a rom-com: It grapples with mother- hood, chronic pain, and familial bonds. Sharp, funny, and thoughtful,
Seven Days in June
is exactly what you'd want in a romance-focused novel, and then some."—
Apartment Therapy
"A tale of wary reconnection and long-awaited answers given, Tia Williams spares the emotions of no reader."—
Women.com
"Tia Williams explores the lingering effects of trauma and the path towards healing through the eyes of two writers unsure of what their next chapter looks like."—
Bookish
"This is a highly anticipated steamy romance that you'll likely not want to end."—
Cafemom.com
"
Seven Days in June
is a big-hearted, romantic, and frequently funny novel that also has moments of pathos and pain—perhaps the ideal book to pick up if you're looking for the love story of 2021."—
Book Reporter