Criminal (In)Justice: What the Push for Decarceration and Depolicing Gets Wrong and Who It Hurts Most (Hardcover)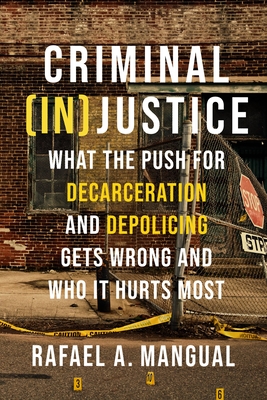 $29.00

On Our Shelves Now - Click to see location, time, and stock details
Description
---
In his impassioned-yet-measured book, Rafael A. Mangual offers an incisive critique of America's increasingly radical criminal justice reform movement, and makes a convincing case against the pursuit of "justice" through mass-decarceration and depolicing.
After a summer of violent protests in 2020—sparked by the deaths of George Floyd, Breonna Taylor, and Rayshard Brooks—a dangerously false narrative gained mainstream acceptance: Criminal justice in the United States is overly punitive and racially oppressive. But, the harshest and loudest condemnations of incarceration, policing, and prosecution are often shallow and at odds with the available data. And the significant harms caused by this false narrative are borne by those who can least afford them: black and brown people who are disproportionately the victims of serious crimes.
In Criminal (In)Justice, Rafael A. Mangual offers a more balanced understanding of American criminal justice, and cautions against discarding traditional crime control measures. A powerful combination of research, data-driven policy journalism, and the author's lived experiences, this book explains what many reform advocates get wrong, and illustrates how the misguided commitment to leniency places America's most vulnerable communities at risk. 
The stakes of this moment are incredibly high. Ongoing debates over criminal justice reform have the potential to transform our society for a generation—for better or for worse. Grappling with the data—and the sometimes harsh realities they reflect—is the surest way to minimize the all-too-common injustices plaguing neighborhoods that can least afford them.
About the Author
---
Rafael A. Mangual is a senior fellow and head of research for policing and public safety at the Manhattan Institute for Policy Research—the think tank renowned for its scholarship on the "Broken Windows" theory of policing in the 1980s and 90s, and for its role in the transformation of New York City into one of the world's safest and most attractive urban centers. He is also a contributing editor of the Institute's flagship quarterly magazine, City Journal.  

Rafael began his career in policy journalism shortly after graduating from law school, and has since become a fixture in the nation's ongoing debates about crime, policing, and incarceration. He has published a number of policy papers and columns for broad public consumption in a wide variety of outlets, including The New York Times, Wall Street Journal, and Washington Post. Rafael regularly appears on national and local television and radio programs, and is a regular speaker at policy conferences and on college and law school campuses.

A graduate of the City University of New York's Baruch College and DePaul University's College of Law, Rafael lives in New York City with his wife and their children.
Praise For…
---
"In 
Criminal (In
)
Justice
, Rafael Mangual draws on the seemingly forgotten lessons of our past success to make a powerful (and timely) case against discarding the systems and approaches that brought about the remarkable decline in crime that began in the early 1990s. This admirable and highly informed departure from the conventional wisdom about criminal justice in the United States is required reading for those concerned about public safety."
 —
William Barr, former U.S. Attorney General and bestselling author of One Damn Thing After Another: Memoirs of an Attorney General
"Rebuilding trust between the police and communities of color – who disproportionately suffer the impact of crime – requires honesty, understanding, and bravely following the facts wherever they lead. Everyone who cares about the quality of life in America's most dangerous zip codes has a duty to read this book even if it makes them uncomfortable."
—
Bill Bratton, Ret. Commissioner, NYPD & Chief, LAPD and author of The Profession: A Memoir of Community, Race, and the Arc of Policing in America
"For years, elite voices have insisted that the greatest threat to minority communities is a racist criminal justice system, and that decarceration and depolicing are the best way to save black and brown lives. In 
Criminal (In)Justice
, Rafael Mangual steeps himself in the data to expose this narrative about race, crime, and justice as dangerously false – and he offers a better way forward." —
Megyn Kelly, journalist & host of The Megyn Kelly Show, and #1 New York Times bestselling author of Settle For More
"To be considered enlightened on incarceration in our times is to learn certain glum mantras suggesting a pitilessly bigoted system America ought be ashamed of. Rafael Mangual is a bearer of truth, which almost always reveals these gloomy tenets as distortions and outright falsehoods. Take heart from his teachings and work to change the world with knowledge rather than agitprop."
—
John McWhorter, bestselling author of Woke Racism: How a New Religion Has Betrayed Black America
"Rafael Mangual has done America a great public service. In this elegantly written, carefully researched book, he explains our exploding crime problem: how we got ourselves into it and how we can get ourselves out. If there's a more important issue than this, I don't know what it is."
—
Dennis Prager, nationally syndicated radio talk show host, co-founder of PragerU, and author of The Rational Bible: Deuteronomy