The Vanquishers (Hardcover)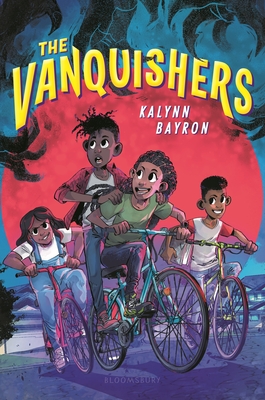 $16.99

Coming Soon - Available for Pre-Order Now
Description
---
Bestselling author Kalynn Bayron brings readers into the world of The Vanquishers, where vampires were history . . . until now.

Malika "Boog" Wilson and her best friends have grown up idolizing The Vanquishers, a group of heroic vampire hunters who wiped out the last horde of the undead decades ago. Nowadays, most people don't take even the most basic vampire precautions--the days of garlic wreaths and early curfews long gone--but Boog's parents still follow the old rules, much to Boog's embarrassment.

But when a friend goes missing, Boog isn't sure what to think. Could it be the school counselor, Mr. Rupert, who definitely seems to be hiding something? Or could it be something more dangerous? She's determined to save her friend, but is she ready to admit vampires might not be vanquished after all?

No one ever expected The Vanquishers to return, but if their town needs protection from the undead, Boog knows who to call.

Inspired by Buffy the Vampire Slayer and The Watchmen, this adventure launches readers into an exciting new series.
About the Author
---
Kalynn Bayron is the bestselling author of the award-winning YA fantasy Cinderella Is Dead and This Poison Heart. She is a classically trained vocalist and when she's not writing you can find her listening to Ella Fitzgerald on loop, attending the theater, watching scary movies, and spending time with her kids. She currently lives in upstate New York with her family.