Welcome to the Jungle, Revised Edition: Facing Bipolar Without Freaking Out (Paperback)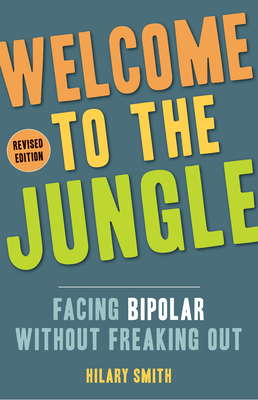 $16.95

Not In Store - Available to special order for pickup or ship. For even speediest shipping we suggest our Bookshop.org page!
Description
---
"I wrote Welcome to the Jungle
About the Author
---
Hilary T. Smith is a brilliant young writer and artist living largely off the grid (but very reachable by email and snail mail--and telephone, when necessary) in the Pacific Northwest.
Praise For…
---
"Hilary Smith has come through big time with a book about bipolar disorder targeted to teens or 20-somethings experiencing mental illness for the first time." --Washington Post
— Reviews

"Among the wealth of works on bipolar, this title (wisely pulled from a Guns N' Roses lyric) nicely stands out as a super reference for younger readers interested in or actually experiencing bipolar disorder and is also a valuable resource for professionals." --Library Journal
— Reviews

"Hilary Smith's Welcome to the Jungle provides readers with wise and excellent counsel about the thing called bipolar disorder. At once radical education and exuberant conversation, this combo memoir and self-help book is a must read for the millions whose ups and downs cause them to collide with psychiatry and the current supremely flawed mental health system." --Eric Maisel, Ph.D., The Future of Mental Health and Rethinking Depression
— Reviews

"This book is flatout fantastic. Funny, smart, and unflinchingly astute, Welcome to the Jungle is exactly the guide you want on your journey from chaos to stability as you learn to manage bipolar disorder. Smith's sure voice is a welcome companion over some hard road, and her wry wisdom lights the way. Indispensable." Marya Hornbacher, author of Madness: A Bipolar Life
— Reviews

"Hilary Smith's wise, hilarious, and candid book is a veritable lifesaver not only for those suffering from bipolar disorder, but for those struggling to keep their sanity while loving them. Maybe because the author suffers from the disorder herself, her book is an actual survival guide, brimming with insight, anecdote, and tough love. Recovery was never so inspiring." Allison Burnett, author of Undiscovered Gyrl
— Reviews