First Day Jitters (The Jitters Series #1) (Paperback)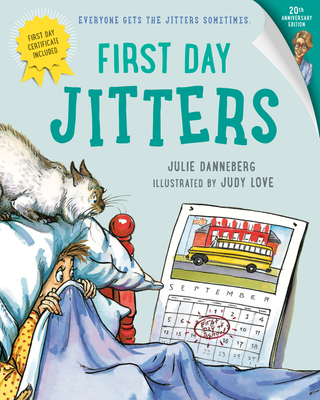 Available to order- email info@loyaltybookstores.com
Not In Store - Available to Special Order
Other Books in Series
This is book number 1 in the The Jitters Series series.
Description
---
Everyone knows that sinking feeling in the pit of the stomach just before diving into a new situation. Sarah Jane Hartwell is scared and doesn't want to start over at a new school. She doesn't know anybody, and nobody knows her. It will be awful. She just knows it. With much prodding from Mr. Hartwell, Sarah Jane reluctantly pulls herself together and goes to school. She is quickly befriended by Mrs. Burton, who helps smooth her jittery transition. This charming and familiar story will delight readers with its surprise ending.

Fun, energetic illustrations brighten page after page with the busy antics surrounding Sarah Jane. FIRST DAY JITTERS is an enchanting story that is sure to be treasured by anyone who has ever anticipated a first day of school.
About the Author
---
As a kid, when Julie Danneberg daydreamed or played at being grown-up, she never imagined herself as a writer. Instead she dreamed of being a famous girl reporter, a secret agent, and a teacher.

As an adult, she is a former middle-school teacher and the author of the bestselling Jitters series, including First Day Jitters and Last Day Blues. She lives in Colorado.
Praise For…
---
"Every child who has moved to a new school or is simply reluctant to start a school year can identify with this wittily drawn and suspensefully told story. From the moment she awakens on the fateful day to the moment she steps into the classroom, Sarah Hartwell imagines the worst. Love's ink-and-watercolor illustrations add humor to Sarah's fears, which range from bratty kids to a police search when she doesn't show up. Mr. Hartwell's reassurances don't seem to be much help. The pictures mirror the jangled nerves and outsize expectations (the double-page spread of a looming, prisonlike school is priceless) everyone faces when they are new, all of which leads to a nifty surprise ending that is a delight. Funny and insightful."—Booklist

"First Day Jitters which was written by Julie Danneberg and illustrated by Judy Love, makes a great companion book to Wemberly Worried. In the opening pages, we meet a certain Sarah Jane Hartwell, who's in the midst of her own first-day-of-school-related panic attack. Sarah Jane is buried under her covers so far that you can't even see her face. In fact, you have no idea what she looks like until the very last page of the whimsical book, which suddenly delivers a sly and funny twist..."—Newsweek