Financial Armageddon (Paperback)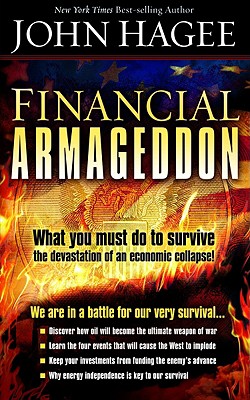 Description
---
Everything prophesied in the Bible is coming to pass
It is no secret that we are living in a time of global crisis. The financial meltdown of Wall Street, bank failures, the subprime lending crisis, and uncontrollable gasoline prices are creating enormous stress for Americans. And now, we are facing an economic crisis that many are comparing to the events leading up to the Great Depression. People everywhere are asking themselves critical questions like: "What is happening?" "Where are we headed?" "What can I do to protect myself and safeguard my family?" You can be assured that God is not surprised by these issues, in fact, all of these events are clearly documented in the Bible as signals pointing to the "end of the age" as we know it. In
Financial Armageddon,
Pastor John Hagee, a master teacher on Bible prophecy and an astute and successful businessman, clearly demonstrates...
Why our current economic crisis is happening
What will ensure your financial freedom in the face of any crisis
How world events are lining up with Bible prophecy
What the Bible says will happen next
And much, much more
As you read, remember that God has promised to bless His people. You can rest assured that He is in control. You will be encouraged to put your trust in God: our Master Investment Counselor with the assurance that He will never let you down.
About the Author
---
John Hagee is the senior pastor of Cornerstone Church in San Antonio, Texas. The nondenominational evangelical church now has more than 18,000 active members. Known best nationally for his End-Times writings, he has authored several fiction and nonfiction best sellers, including Jerusalem Countdown over 1 million copies sold, In Defense of Israel, The Seven Secrets and What Every Man (Woman) Wants.