A Valentine for Charlie Brown (Peanuts Seasonal Collection) (Hardcover)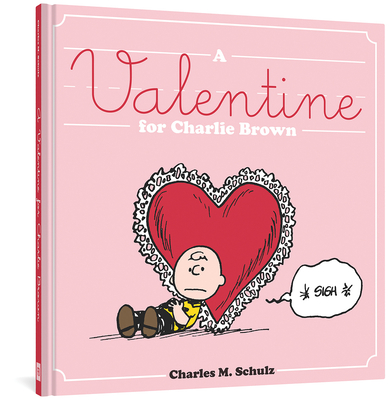 $9.99

On Our Shelves Now - Click to see location, time, and stock details
Description
---
This Valentine's Day-themed Peanuts strip collection is the perfect gift for a loved one.
Charlie Brown and the
Peanuts
gang have made an indelible mark on so many treasured American holidays and traditions, from Charlie Brown's infamous Christmas tree to Linus's obsession with the Great Pumpkin. And who can forget the most romantic—and occasionally loneliest—of all holidays? From Charlie Brown opening an empty mailbox every February 14th, to Sally Brown and her "sweet baboo" Linus,
A Valentine for Charlie Brown
is the perfect gift to remind that special someone in your life just what love is all about, for better and for worse!
About the Author
---
Charles M. Schulz was born November 25, 1922, in Minneapolis. His destiny was foreshadowed when an uncle gave him, at the age of two days, the nickname Sparky (after the racehorse Spark Plug in the newspaper strip Barney Google). His ambition from a young age was to be a cartoonist and his first success was selling 17 cartoons to the Saturday Evening Post between 1948 and 1950. He also sold a weekly comic feature called Li'l Folks to the local St. Paul Pioneer Press. After writing and drawing the feature for two years, Schulz asked for a better location in the paper or for daily exposure, as well as a raise. When he was turned down on all three counts, he quit.
He started submitting strips to the newspaper syndicates and in the spring of 1950, United Feature Syndicate expressed interest in Li'l Folks. They bought the strip, renaming it Peanuts, a title Schulz always loathed. The first Peanuts daily appeared October 2, 1950; the first Sunday, January 6, 1952. Diagnosed with cancer, Schulz retired from Peanuts at the end of 1999. He died on February 13, 2000, the day before Valentine's Day-and the day before his last strip was published, having completed 17,897 daily and Sunday strips, each and every one fully written, drawn, and lettered entirely by his own hand — an unmatched achievement in comics. 
Praise For…
---
…[M]isery loves company. And if the thought of Valentine's Day makes you miserable, there's no better company than Schulz's Valentine's Day-themed strips. As for the kids in the reading audience, they should be more than happy with the comedy of the strips — like Charlie Brown getting his big, round head stuck in the mailbox — even if they aren't as well-versed in loneliness, heartbreak and rejection as grown-ups are. But don't worry, kids; you'll be learning all about those before you know it!
— J. Caleb Mozzocco - School Library Journal