Inconvenient Daughter (Paperback)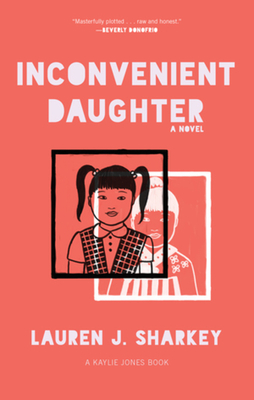 $15.95

On Our Shelves Now - Click to see location, time, and stock details
Description
---
A vibrant and provocative debut novel that dispels myths surrounding transracial adoption.
Inconvenient Daughter received the IPPY Awards GOLD Medal in Multicultural Fiction

Inconvenient Daughter is a finalist for Foreword Review's 2020 INDIES Book of the Year Award in Adult Fiction - Multicultural
"A transracial Korean adoptee works through identity questions and the aftereffects of abuse in search of self-acceptance."
--Milwaukee Journal Sentinel
"In Sharkey's stirring...debut, a transracial adoptee of Korean descent endures a crisis of identity...Sharkey achieves a moving account of Rowan's difficult reckoning with her identity. This is an adept portrayal of the long shadow of abuse and the difficulty of being an adoptee."
--Publishers Weekly
"This debut novel vividly details the awkwardness of high school and heartbreak of rejection. Rowan's first-person narrative voice provides sharp, devastating emotional insight."
--Kirkus Reviews
Included in The Rumpus's What to Read When You Want to Celebrate Women's History
Rowan Kelly knows she's lucky. After all, if she hadn't been adopted, she could have spent her days in a rice paddy, or a windowless warehouse assembling iPhones--they make iPhones in Korea, right? Either way, slowly dying of boredom on Long Island is surely better than the alternative. But as she matures, she realizes that she'll never know if she has her mother's eyes, or if she'd be in America at all had her adoptive parents been able to conceive.
Rowan sets out to prove that she can be someone's first choice. After running away from home--and her parents' rules--and ending up beaten, barefoot, and topless on a Pennsylvania street courtesy of Bad Boy Number One, Rowan attaches herself to Never-Going-to-Commit. When that doesn't work out, she fully abandons self-respect and begins browsing Craigslist personals. But as Rowan dives deeper into the world of casual encounters with strangers, she discovers what she's really looking for.
With a fresh voice and a quick wit, Lauren J. Sharkey dispels the myths surrounding transracial adoption, the ties that bind, and what it means to belong.
About the Author
---
LAUREN J. SHARKEY is a writer, teacher, and transracial adoptee. After her birth in South Korea, she was adopted by Irish Catholic parents and raised on Long Island. Sharkey's creative nonfiction has appeared in the Asian American Feminist Collective's digital storytelling project, First Times, as well as several anthologies including I Am Strength! and Women under Scrutiny. Inconvenient Daughter is her debut novel, and is loosely based on her experience as a Korean adoptee. You can follow her at ljsharks.com.