Lower Ed: The Troubling Rise of For-Profit Colleges in the New Economy (Paperback)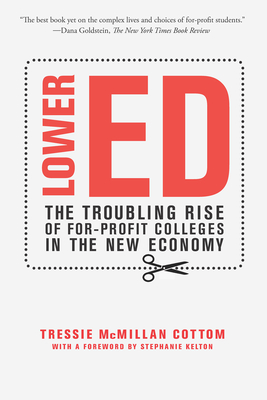 $18.99

On Our Shelves Now - Click to see location, time, and stock details
Description
---
The best book yet on the complex lives and choices of for-profit students.
--The New York Times Book Review
As featured on
The Daily Show
, NPR's
Marketplace
, and
Fresh Air
, the powerful, chilling tale (Carol Anderson, author of
White Rage
) of higher education becoming an engine of social inequality
Lower Ed
is quickly becoming the definitive book on the fastest-growing sector of higher education at the turn of the twenty-first century: for-profit colleges. With sharp insight and deliberate acumen, Tressie McMillan Cottom--a sociologist who was once a recruiter at two for-profit colleges--expertly parses the fraught dynamics of this big-money industry.
Drawing on more than one hundred interviews with students, employees, executives, and activists, Lower Ed details the benefits, pitfalls, and real costs of the expansion of for-profit colleges. Now with a new foreword by Stephanie Kelton, economic advisor to Bernie Sanders's presidential campaign, this smart and essential book cuts to the very core of our nation's broken social contracts and the challenges we face in our divided, unequal society.
About the Author
---
Tressie McMillan Cottom is an associate professor of sociology at Virginia Commonwealth University and the author of Thick. Her work has been featured by The Daily Show, the New York Times, the Washington Post, PBS, NPR, Fresh Air, and The Atlantic, among others. In 2020, McMillan Cottom was awarded a MacArthur Fellowship. She lives in Richmond, Virginia.