Rainbow Revolutions: Power, Pride, and Protest in the Fight for Queer Rights (Paperback)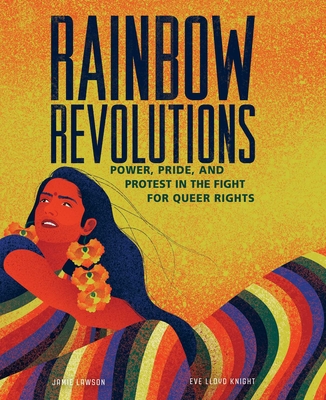 $13.95

On Our Shelves Now - Click to see location, time, and stock details
Description
---
A book about the fight for queer rights, beautifully illustrated with bold and beautiful illustrations by pop artist Eve Lloyd Knight.

Around one o'clock in the morning on June 28, 1969, police raided the Stonewall Inn, a gay bar in New York, sparking days of intense rioting. What happened at Stonewall sent shockwaves around the world, and became a defining moment for the LGBTQ+ community.

From the impassioned speeches of bold activists Karl Ulrichs and Audre Lorde to the birth of Pride and queer pop culture, Rainbow Revolutions charts the dramatic rise of the LGBTQ+ rights movement, and celebrates the courageous individuals who stood up and demanded recognition. With bold and beautiful illustrations by pop artist Eve Lloyd Knight.
About the Author
---
Jamie Lawson is a queer anthropologist working at the University of Bristol. His research centers on human sexuality, with a particular focus on queer identities and experience. He is an active and proud member of the LGBTQ+ community and has a history of activism and engagement.

Eve Lloyd Knight is an illustrator, designer and, art director whose work has been featured in the New York Times, Grazia, Stylist, and many others. Her previous work, Rebel Voice: The Global Fight for Women's Equality and the Right to Vote (Interlink 2018) received a starred review in Publishers Weekly. Eve produces bold and topical illustrations, with a specific focus on feminist and queer rights issues.
Praise For…
---
"This stunning full-color celebration of LGBTQ history and pop culture is as enjoyable as it is educational. It opens with a vibrant table of contents, dotted with iconic moments in the LGBTQ social and political record and teasing a range of topics including parenting, the Stonewall Riots, Berlin cabarets, drag performances, and Pride events. A prologue expounds on the use of queer as an umbrella term to address a diverse community, whose nascent beginnings and transformation are detailed in a time line and other extensive back matter. Knight's illustrations, vibrant as the rainbow flag, pay homage to legends of pop art like Warhol, Haring, Hockney, Johns, and Rauschenberg. Each chapter contains a gorgeous spread with a bold pull quote spotlighting an actual chapter in LGBTQ history, making it so that even a quick skim will glean knowledge about the community's joys and painful challenges. The book humanizes the LGBTQ community, showing that this movement is about more than just sexual preference, and Lawson welcomes marginalized subcommunities, including a rather detailed explanation of the acronym and spectrum and addressing the realities of the struggle for liberation, the challenges of coming out, and the misunderstandings, bias, and homophobia that have shaped the community over centuries. Accessible and inspiring."
— Booklist (Starred Review)

"This overview of the history of LGBTQ activism starts with the well-known Stonewall riots, then moves back in time to explain more than 20 turning points in Western culture from the 19th century to the present. Each spread details a significant person or event, while also emphasizing the ways activists rely on the work of those who came before them. These connections are further cemented in the time line in the back matter; also included are a glossary and an index. Accompanied by Knight's bold and inspiring artwork, the text covers well-known topics and those that are sometimes overlooked, including the contributions of BIPOC (Black, Indigenous, and people of color), trans activists, and women. Despite the brevity of each section, Lawson avoids oversimplification and uses a direct writing style that invites readers to learn from historical tragedies (the Holocaust, the AIDS crisis, and the deaths of Harvey Milk and Alan Turing). Lawson offers a perfect balance between celebrating the community's achievements and inspiring young leaders to keep fighting for justice. VERDICT: This beautiful, well-written book provides a sense of historical continuity, remembrance, and stability. Highly recommended for all collections."
— School Library Journal (Starred Review)

"This book's subtitle sums up the content neatly. To provide context for queer rights today, Lawson traces the history of LGBTQ oppression and resistance, from Victorian-era Germany to the Holocaust to Stonewall and beyond. Topics covered include the AIDS crisis and ACT UP, the New York ballroom scene, Pride celebrations, trans rights, marriage and family equality, queer representation in sports and popular culture, and more. This accessible account offers a wide-ranging discussion of the evolution of LBGTQ activism. Knight's stylized and stylish illustrations introduce each four-page section. Back matter includes a timeline highlighting significant world events from 1867 to 2018, a glossary, and an index."
— The Horn Book