Anti-Racism (Words of Change series): Powerful Voices, Inspiring Ideas (Hardcover)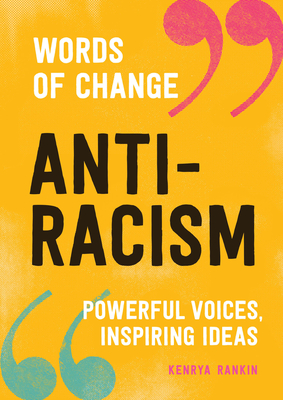 $16.95

On Our Shelves Now - Click to see location, time, and stock details
Description
---
Over 100 insightful passages from anti-racist leaders, both past and present—including Ibram X. Kendi, Ta-Nehisi Coates, Audre Lorde, and Malcolm X—presented by the author of How We Fight White Supremacy.

Celebrate resistance and spark change with this "powerful collection" of inspirational quotes for allies and activists dedicated to promoting racial equity (Ms. Magazine).

This collection of stirring quotes from anti-racist activists is a call to action and a blast of truth. In these pages readers will find understanding and inspiration to end racial injustice.

Journalist and activist Kenrya Rankin's powerful introduction explains how systemic racism poisons the atmosphere for everyone, while her selection of vibrant quotes illuminates and honors the work of anti-racist leaders past and present. Beautifully presented quotes and capsule biographies of the activists make this book a perfect gift or resource for students, educators, librarians, advocates, and allies who seek social justice and promote anti-racism. Voices include:

• Jason Reynolds
• Ibram X. Kendi
• Adrienne Maree Brown
• Roxane Gay
• Ta-Nehisi Coates
• Alexandria Ocasio-Cortez
• Robin DiAngelo
• Darnell Moore
• Lizzo
• Audre Lorde
• Malcolm X
• and many more!

Now more than ever, the fight for racial justice requires all of us to participate, not just during Black History Month—but every day of the year.

Partial proceeds to benefit The Movement for Black Lives Fund.
About the Author
---
Kenrya Rankin is an award-winning author, journalist, editor, speaker, and on-air talent who creates dynamic, high-impact content that amplifies the lived experiences, advocacy and work of people of color and shifts the narrative around who deserves liberation, justice, joy, and dignity in America. Kenrya's insight has been tapped by leading media outlets such as the New York Times, the Huffington Post, and ThinkProgress. A 20-year veteran in the editorial space, she is Principal at editorial consultancy Perfectly Said Studio, Executive Producer and Co-host of The Turn On podcast and author of five books, including How We Fight White Supremacy: A Field Guide to Black Resistance. Kenrya earned her undergraduate degree in journalism from Howard University and her master's degree in publishing from New York University. She is a from Cleveland, Ohio, and currently lives in the Washington, D.C. area with her brilliant artist daughter.
Praise For…
---
"From activist and author of How We Fight White Supremacy comes this slim yet powerful collection of quotes from over 100 imperative voices in the anti-racism movement...get yours to take a break, rejuvenate, refresh and get back into the fray."
—Ms. Magazine

"Discover a myriad of anti-racist activists through these 100-plus reflections."
—Colorlines

"This is a [book] that will drive conversations, especially with younger readers. Filled with quotes from entertainers, intellectuals, and notable social justice heroes, this book will encourage children to ask questions, embrace history, and aspire to be the change they want to see."
—BookRiot

"White people who truly want to be allies can find their path to ally-ship without Black validation and without us having to take time out of our days to educate them. They can find their own curriculum and figure out for themselves how they can do their part in fighting the good fight. And they can do it without the promise of Black praise."
—Zack Linly

"The day I stop fighting for equality and for people that look like you and me will be the day I'm in my grave."
—Serena Williams