Larry Gets Lost in the Library (Paperback)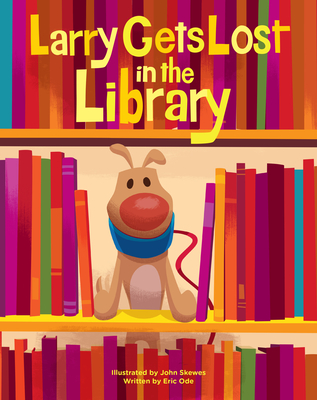 Available to order- email info@loyaltybookstores.com
Not In Store - Available to Special Order
Description
---
This new addition to the best-selling Larry Gets Lost series, featuring the perpetually lost pup, Larry, celebrates libraries and librarians.


Larry, a playful pup, loves to go on vacation with Pete. In this edition they visit Pete's grandparents on a farm. When a bookmobile arrives, Pete is excited to select a stack of books. As Pete reads, he doesn't notice that Larry, in search of a snack, wanders into the bookmobile.

Larry's adventure begins when the librarian drives away, not realizing Larry is on board, to return the bookmobile to the city library. Larry, searching for Pete, soon finds himself lost inside the library, where he is surrounded by busy librarians and patrons enjoying books. But will he ever find his way back to his best friend Pete?
About the Author
---
John Skewes is a professional illustrator living in Seattle. As the creator and illustrator of the award-winning Larry Gets Lost® children's book series, John has followed Larry from the southern tip of Texas to tiny Nome, Alaska, and has been lost several times himself.

Eric Ode is a national award-winning children's singer, songwriter, author, and poet who performs for schools, libraries, and community events. He is also the author of Sea Star Wishes and co-author of Larry Gets Lost Under the Sea. In addition to being a professional illustrator, Jaime Temairik is a spectacularly fun birthday party guest.
Praise For…
---
"Ode's bouncing abcb rhyme scheme makes this title excellent to read aloud, in group settings or for one-on-one sharing"--Olivia the Librarian