Paris Fashion: A Cultural History (Hardcover)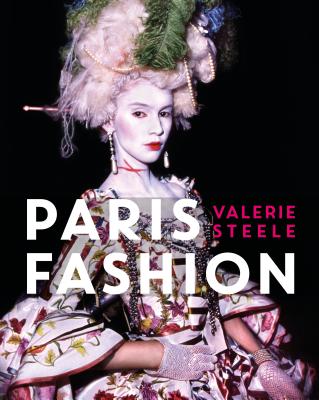 $40.00
Email or call for price.
Description
---
This beautifully illustrated new edition of Paris Fashion examines the history and culture of style in the fashion capital from the 14th century through to the present day.

Paris has been the international capital of fashion for more than 300 years. Even before the rise of the haute couture, Parisians were notorious for their obsession with fashion, and foreigners eagerly followed their lead. From Charles Frederick Worth to Gabrielle "Coco" Chanel, Christian Dior, and Yves Saint Laurent, fashion history is dominated by the names of Parisian couturiers. But Valerie Steele's Paris Fashion is much more than just a history of great designers. This fascinating book demonstrates that the success of Paris ultimately rests on the strength of its fashion culture – created by a host of fashion performers and spectators, including actresses, dandies, milliners, artists, and writers.

First published in 1988 to great international acclaim, this pioneering book has now been completely revised and brought up to date, encompassing the rise of fashion's multiple world cities in the 21st century. Lavishly illustrated, deeply learned, and elegantly written, Valerie Steele's masterwork explores with brilliance and flair why Paris remains the capital of fashion.
About the Author
---
Often quoted in media, Valerie Steele has been the subject of profiles in Forbes and The New York Times, and was listed in the New York Daily News "Fashion's 50 Most Powerful." She is Director and Chief Curator of The Museum at the Fashion Institute of Technology (MFIT) and has curated more than 20 exhibitions in the past ten years. She is also Editor-in-chief of Fashion Theory: The Journal of Dress, Body & Culture (Berg) and the author of numerous books, including Gothic: Dark Glamour; The Corset: A Cultural History; Paris Fashion; Fifty Years of Fashion: New Look to Now; Fetish: Fashion, Sex and Power; and Women of Fashion: 20th-Century Designers.
Praise For…
---
"This is an original, gracefully written study of Paris fashion, one that manages to say as much about national character, in a sense, as it does about the rise and fall of hemlines . . . I would not only recommend it to anyone interested in the psychology of clothes, but to anyone planning a sejour in France - as much required reading, say, as the Green Guides of Michelin." - Los Angeles Times Book Review

"Steele has achieved some heroic feats of compression, though without clogging her narrative . . . at every stage the argument is buttressed with case histories and anecdotes. The 80 or so illustrations make an important contribution, too . . . not only well chosen but well integrated into the text, and the art of portraying fashion is itself discussed in illuminating detail . . . [Steele's] book offers many insights and pleasures, including some excellent quotations." - The New York Times

"An impressive compendium of information." - The New York Times Book Review

"A mine of novel information and fascinating illustrations, Valerie Steele's book is good to look at and good to read." - Eugen Weber, Historian

"An innovative renewal of a subject all too often explored ploddingly. Ms. Steele enhances brilliantly the eternal appeal of French couture." - Palmer White, author of ELSA SCHIAPARELLI: EMPRESS OF PARIS FASHION

"Once I started reading, I could not stop! Valerie Steele's book is wonderfully witty, pleasurable to read and so well documented. It is one of the best complete studies on Paris fashion that I have ever come across." - Jean-Michel Tuchscherer, Former Curator, Museum of Fine Arts, Boston

"Steele's book is a richly textured analysis of sources - artistic, economic, literary, social, and it is a perfect book to recommend to students and many others beside." - Costume

"Valerie Steele's Paris Fashion is the one-stop scholarly guide to French fashion. Beautifully written and deeply researched, it brings together a cast of characters, a set of policies, and an ethos about fashion that the whole world hopes to understand. The book is widely considered the leading work in English on the subject. Based mainly on primary sources, it demonstrates a feeling for French culture that is palpable on every page." - Peter McNeil, University of Technology, Sydney, Australia

"In this new edition of her seminal book, Valerie Steele brilliantly builds on her exploration of Parisian spaces, places and characters, real and imagined, at the heart of the cultural construction of Paris fashion. With a wealth of new illustrations, as ravishing as they are informative, and with new insights into Paris fashion, this book is more than ever indispensable to anyone interested in understanding the making of a fashion city." - Agnès Rocamora, London College of Fashion, University of the Arts, UK

"There is no better guide to the shifting fortunes of Paris fashion than Valerie Steele. When Paris Fashion was first published in 1988, it changed the way in which fashion history was written and received. This third edition incorporates new perspectives and shows how the fashion culture of Paris has continued to evolve and adapt in a rapidly changing world. Informed, provocative, and accessible, it is a book that will continue to inspire future generations." - Christopher Breward, Edinburgh University, UK

"Valerie Steele's Paris Fashion is indispensable reading for costume historians and style mavens, students of French culture and lovers of French arts de vivre. With matchless acuity, rigor, and verve, Dr. Steele shows how and why Paris emerged as the greatest fashion city in Western history. Paris Fashion is a triumph of scholarship and storytelling alike. If I could only own one book on fashion, this would unquestionably be it." - Caroline Weber, Columbia University, US