Covenant (Paperback)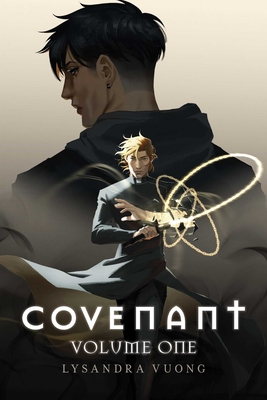 $24.99

Coming Soon - Available for Pre-Order Now
Description
---
Discover Lysandra Vuong's hit supernatural action Webtoon Covenant in print for the first time ever.

"If you need a comic that blends action fantasy with mythology, comedy, and punk gothic fashion, Covenant is wildly enjoyable." -Women Write About Comics

In a world where priests are decked out in holy tattoos and brandish machine guns in the face of demons, a powerful exorcist and a mysterious boy cross paths . . . in a college classroom.

Erza's faith is waning when God intervenes and sends him on a mission to protect Sunny, an outwardly normal human, from demonic forces. Looks can be deceiving, however, as Sunny proves to have hidden secrets and a bloody past nipping at his heels. Between Erza's sunny sarcasm, and Sunny's closed-off distant demeanor, the two struggle to find any common ground to bridge the gap. Yet, as much as the two bicker and retain distance, neither can help but be drawn to the other.

With his church under scrutiny and the threat of war on the horizon, will Ezra find his conviction in time to keep Sunny safe? Will Sunny even accept his help? Or will they both suffer the consequences??

From debut creator LySandra Vuong comes the first volume of the supernatural action webcomic that explores religious faith, a slow burn queer romance, the weight of destiny, and what it means to be good in a world plagued by demons.

This volume collects episodes 1–18 of the hit WEBTOON comic Covenant.
About the Author
---
LySandra Vuong, also known as Explodikid, is a comic artist and writer based in Los Angeles. They left their previous job as a mechanical engineer to pursue a career in drawing hot anime characters. Covenant is their debut comic.


Praise For…
---
"If you need a comic that blends action fantasy with mythology, comedy, and punk gothic fashion, Covenant is wildly enjoyable."
—  Women Write About Comics

"We dare anyone to start this series and not find themselves immediately pulled into the mystery and suspense."
— Geek Girl Authority

"Why You Should Read: [Covenant has] plenty of action, and boys being a hot damn mess as they try to figure out what's going on while being wrapped up queer story that is giving major Warrior Nun vibes."


— Fangirlish 

"Covenant should scratch an itch you maybe didn't know you had—even if that itch is some hot monsters from hell."


— AV Club