Keto Air Fryer Cookbook for Beginners: 550 Easy and Healthy Delicious Low-Carb Recipes to Heal Your Body & Help You Lose Weight (Paperback)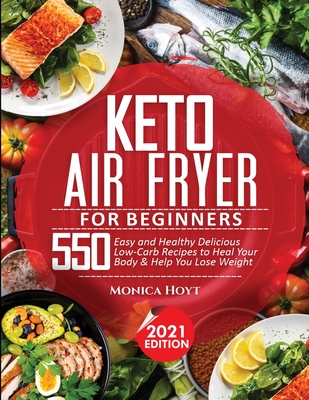 $12.99

Not In Store - Available to Special Order
Description
---
The Keto Air Fryer Cookbook is a comprehensive lifetime reference that offers the biggest selection of recipes plus fundamental information. A perfect gift for newlyweds, small families, or empty-nesters.
Are you tired from all of your failed weight loss attempts?Do you want the healthy lifestyle you have always dreamt of?
Then this cookbook is absolutely for you This Cookbook consist of over 550 foolproof recipes made with common ingredients that deliver great flavor and stunning aromas. The recipes are quick and delicious for healthy living. You can bake, grill, roast, and fry any of the recipes with your Air Fryer
In this Cookbook you will learn:
How to lose weight while eating Fried Foods
Tips and tricks how to make living on the keto easier
What is the ketogenic diet - what foods you can and can't eat
What are the main benefits of keto diet and how you can maximise them
This Air Fryer Keto Book will take care of your scarce cooking time and will show you the easiest & tastiest way towards a PERMANENT WEIGHT-LOSS & New Life on the keto.
In this book we have covered the following range of topics and recipes:
Low Carb Breakfast Recipes
Low Carb Appetizers & Snacks Recipes
Low Carb Poultry Recipes
Low Carb Beef Recipes
Low Carb Pork & Lamb Recipes
Low Carb Fish & Seafood Recipes
Low Carb Side Dishes Recipes
Vegetarian & Vegetable Main Dishes
Low Carb Dessert Recipes
There are so many reasons why you'll love this Keto Air Fryer Cookbook. Cooking Instructions are written step by step and in a clear understandable manner for beginners and advanced users. Grab your copy now.