Women! In! Peril! (Paperback)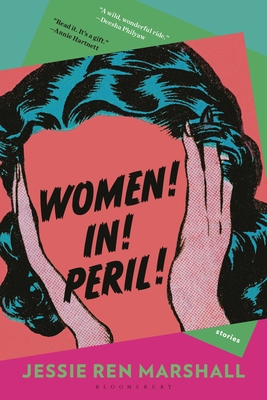 $17.99

Coming Soon - Available for Pre-Order Now
Description
---
Full of wry humor, sharp social commentary, and an irrepressible sense of hope, a ferociously feminist debut short story collection from award-winning playwright Jessie Ren Marshall.

In this brash and unputdownable collection, we meet a sex bot trying to outlast her return policy, a skeptical lesbian grappling with her wife's mysterious pregnancy, and a post-Earth colonist struggling to maintain her faith in humanity as she travels to "Planet B." Whether they exist in the grounded realism of a college dance studio or the speculative world of Deep Space, these women push against social norms and family expectations to reclaim their power, understand their mistakes, and find a better future.

Hilarious, heartbreaking, and defiantly optimistic, the twelve stories in Women! In! Peril! balance humor and gravitas to explore the complexities of queerness, toxic relationships, parenting and divorce, Asian and Asian American identity, and so much more.
About the Author
---
Jessie Ren Marshall is a mixed race, Japanese-American writer who holds an MFA in Fiction from NYU. Her work has appeared or is forthcoming in The New York Times' Modern Love column, The Gettysburg Review, Barrelhouse, The Common, ZYZZYVA, Chicago Quarterly Review, and Joyland, where her story "Late Girl" was a finalist for the 2022 Open Border Prize. Her musical Pele & The Hi'iakas was a semi-finalist for the 2021 Eugene O'Neill National Musical Theater Conference, and her play Hapa Girls won the 2020 Kumu Kahua Hawai'i Prize. She lives with her dogs on Hawai'i Island.
Praise For…
---
"Genre-bending . . . wickedly smart . . . Women! In! Peril! reflects on the ever-evolving complexities of being a woman, especially when intertwined with LGBTQ and Asian American experiences. This unflinching lens gives power to this collection, with Marshall's delightful sense of humor sparkling throughout. An amusing but poignant collection for those who enjoy strange women in even stranger circumstances." —Booklist

"Welp, I've found my new favorite writer. Jessie Ren Marshall is so funny, so smart, so inventive, and I loved living in her wild imagination with these characters. I love it so much I want to roll in its words like a pig in the mud. I've been telling everyone I know about this book. Read it. It's a gift." —Annie Hartnett, author of RABBIT CAKE and UNLIKELY ANIMALS

"Fearless and hilarious, brutal and huge-hearted. As these brilliant stories carried me everywhere from deep space to a college dance classroom to the mind of a sex robot, I found myself astounded not just by Jessie Ren Marshall's range but by the depth of feeling she can summon. These stories are exhilaratingly honest, yet saturated with love for the messy, doomed worlds they create-and I fell totally under their spell." —Clare Beams, author of THE ILLNESS LESSON

"A powerful and fearless work marked by both great heart and great hope. Told in sharp, animated prose, these twelve stories relentlessly pursue questions of identity, belonging, and what it means to be a woman in contemporary society; I would eagerly follow them into deep space and beyond. Marshall's creative range is breathtaking, and Women! In! Peril! is a spectacular debut." —Megan Kamalei Kakimoto, author of EVERY DROP IS A MAN'S NIGHTMARE

"In this sharp, inventive collection, Marshall establishes herself as someone to watch. These are stories that make you think, make you laugh, and make you uncomfortable in the way that only smart fiction can." —Rita Chang-Eppig, author of DEEP AS THE SKY, RED AS THE SEA

"Jessie Ren Marshall's voice in these stories is virtuosic in its range-surprising, funny, melancholy, shocking, poignant, and profound. She manages this by turns, and sometimes, amazingly, all at once. Women! In! Peril! is a fantastically good collection." —Brian Hall, author of THE SASKIAD and THE STONE LOVES THE WORLD

"Brilliant and fearless, Women! In! Peril! is an utterly original collection. Jessie Ren Marshall inhabits a thrilling range of characters-an android, space traveler, former ballerina, jilted wives and more-in stories that examine race, gender, sexuality and other elements of identity with confidence and grace. A blazing, big-hearted debut." —Vanessa Hua, author of FORBIDDEN CITY