Deliberate Evil: Nathaniel Hawthorne, Daniel Webster, and the 1830 Murder of a Salem Slave Trader (Hardcover)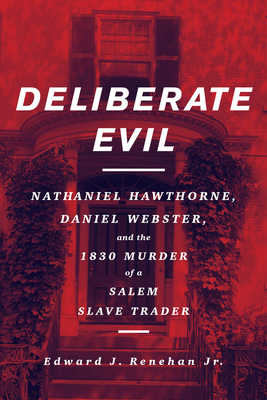 $28.99

On Our Shelves Now - Click to see location, time, and stock details
Description
---
"This is true crime at its most enthralling—prepare to be transported." —Terri Cheney, New York Times bestselling author of Manic

The 1830 murder of wealthy slaver Joseph White shook all of Salem, Massachusetts. Soon the crime drew national attention when it was discovered that two of the conspirators came from Salem's influential Crowninshield family: a clan of millionaire shipowners, cabinet secretaries, and congressmen.

A prosecution team led by famed Massachusetts senator Daniel Webster made the case even more newsworthy. Meanwhile, young Salem native Nathaniel Hawthorne—who knew several of the accused—observed and wrote.

Here, using source materials not available previously, Edward J. Renehan Jr. provides a riveting narrative of the cold-blooded murder, intense investigations, scandal-strewn trials, and grim executions that dominated headlines nearly two-hundred years ago.
About the Author
---
Edward J. Renehan Jr. is the author of The Life of Charles Stewart Mott, Dark Genius of Wall Street: The Misunderstood Life of Jay Gould – King of the Robber Barons, The Secret Six: The True Tale of the Men Who Conspired with John Brown, and The Kennedys at War, among others. He has appeared on C-SPAN's BookTV, The History Channel, and PBS, and has been interviewed on National Public Radio. His essays and reviews have appeared in such publications as the Wall Street Journal and the San Francisco Chronicle. An avid sailor, he resides just outside Newport, Rhode Island, with his family.
Praise For…
---
"Edward Renehan has combed through the murky annals to eloquently reveal one of the most riveting stories of crime, detection, and court drama in the history of American jurisprudence."—Ashleigh Banfield, host of Banfield on NewsNation-WGN

"A cold-blooded murder, a city in an uproar, a thrilling courtroom drama featuring no less than the legendary Daniel Webster: Deliberate Evil has all the ingredients of a sizzling historical novel. But it's all true, as evidenced by Renehan's meticulous research and reporting. This is true crime at its most enthralling—prepare to be transported." —Terri Cheney, author of Manic: A Memoir and Modern Madness
 

"Edward Renehan's Deliberate Evil tells the story of the brutal murder of Captain Joseph White in Salem, Massachusetts, in 1830, which held our young nation in rapt attention and inspired writings by both Nathaniel Hawthorne and Edgar Allan Poe. Renehan's account of the twisty tale is riveting, both skillful and scandalous, full of thoughtful research and meditations on the nature of guilt. There's great reportage here, as well as important literary and cultural history. A must-read for historical true crime fanatics." —William Boyle, author of Shoot the Moonlight Out and City of Margins

"Salem, Massachusetts, may be best remembered for its witch trials, but Renehan has disinterred another trial, prosecuted by Daniel Webster and witnessed by Nathaniel Hawthorne, that electrified the world in the 1830s—and that was deliberately erased from memory over the next century. A story of family secrets, a stolen will, prodigal sons, and murder, it is at once a meticulously researched work of historical reconstruction and a haunting American gothic." —Arthur Goldwag, author of The New Hate and Cults, Conspiracies, and Secret Societies
 

"A fascinating blend of true crime and American history." — Publishers Weekly

"A passionate introduction to early Salem and the high-profile crimes that took place there, Deliberate Evil is a true crime text that takes a close look at power and class struggles. It's told with real relish for the location and the stories of those who conspired to benefit from a murder." — Foreword Reviews

"Readers of Nathaniel Hawthorne, lovers of history, and anyone who enjoys a good mystery will be absorbed by this bizarre true crime tale." — Library Journal

"…well-crafted, imbuing the gothic affairs of nearly 200 years ago with suspense and vividly portraying a large cast of characters." — Wall Street Journal

"Renehan writes with a clear writing style that keeps the mystery, not just telling the factual history, drawing the reader in." — New York Journal of Books