A Hex for Danger: An Enchanted Bay Mystery (Hardcover)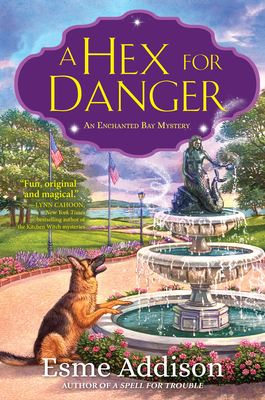 Other Books in Series
This is book number 2 in the An Enchanted Bay Mystery series.
Description
---
The annual Mermaid Festival is the setting for Esme Addison's sunny-yet-sinister second Enchanted Bay mystery, perfect for fans of Heather Blake and Bailey Cates.

The small town of Bellamy Bay has its share of skeletons in its closet, but it isn't used to bodies turning up in the local history museum. After all, this coastal North Carolina town is much like any other...except, of course, for the mermaids.

Helping to run the family business, an herbal apothecary, while keeping her supernatural secret hidden is no easy feat for water witch Aleksandra Daniels. But somehow she's still found time to help her friend Celeste, who has her own Caribbean mermaid heritage, plan the annual Mermaid Festival. As fun-seekers throng the beaches, Alex gets to know and is intrigued by renowned artist Neve Ryland, who's in town to decorate the local park with a mermaid-themed mural. Celeste, however, is less enamored with the artist, as Neve has been spending entirely too much one-on-one time with her boyfriend Jasper, director of Bellamy Bay's history museum. Then, a reception for Neve ends abruptly when the artist is found dead in his office.

When the police investigation nets Celeste, Alex decides to find the true culprit. With the help of her magically-inclined aunt and cousins, Alex dives in to clear her friend's name. But there was more to Neve Ryland than met the eye...and Alex fears she may be in way too deep. Will she catch the crook or be next on the hook?
About the Author
---
Ever since Esme discovered Nancy Drew, she's wanted to solve mysteries. As a mystery author, she's finally found a way to make that dream come true. A former military spouse, Esme lives in Raleigh, NC with her husband and three boys. When she's not writing, you can find her visiting B&Bs, breweries, wineries, and historical sites.
Praise For…
---
Praise for A Hex for Danger
"Magical mysteries, romance, and a Harry Potter–like storyline add up to an enchanting read."
—Kirkus

"Close family relationships, friendship, a lovingly portrayed coastal setting—all framed by details of running an herbal apothecary—distinguish this cozy."
—Booklist

"Lovers of the supernatural women from Charmed solving mysteries will love A Hex for Danger."
—Women.com

"A deftly crafted saga featuring canny characters, mysterious magic, and shocking twists."
—Midwest Book Review

"A really fun, magical novel that kind of reminds you of Harry Potter . . . A good book to read at the pool, lake or beach this July."
—Red Carpet Crash

"A very unique cozy mystery series."
—Cozy Mystery Book Reviews

"Fun, original, and magical."
—Lynn Cahoon, New York Times bestselling author the Kitchen Witch series

"Absolutely bewitching! Mermaids, dragons, mystical espionage, and a delightful family and small-town community. If you love magic and mystery, you're in for a treat with A Hex For Danger."
—Heather Blake, national bestselling author of the Wishcraft mysteries

"A tantalizing blend of mystery, magic, and mythology, infused with a dash of romance . . . A great beach read."
—Victoria Gilbert, author of the Blue Ridge Library Mystery series and the Booklovers B&B mystery series

Praise for A Spell for Trouble:
"Fans of Ellery Adams's mysteries will want to try this one."
—Library Journal

"This cozy, with its well-developed characters and charming seaside setting, and framed by plant and mermaid lore, will appeal to those who enjoy stories with a touch of magic."
—Booklist

"[A] sparkling debut...For those who love cozies, romance with an edge, and magical adventures."
—Kirkus
 
"A crafty plot, distinctive characters, and a quirky small-town setting . . . Cozy fans will be more than satisfied." 
—Publishers Weekly
 
"A smashing start to an enchanting new series that has humor, heart, and magic in a tale of self-discovery, new beginnings, and family."
—Manhattan Book Review
 
 
"With a cache of family secrets, a score of small-town rivalries, and a bevy of botanically-inclined magical women, readers will fall under the spell of charming Bellamy Bay."
—Julie Blackwell, New York Times bestselling author of the Witchcraft Mystery series
 
"A refreshing paranormal mystery featuring water witchery, mermaids, and family secrets, A Spell for Trouble is the perfect blend of thrill, whimsy, magic, and romance."
—Bailey Cates, New York Times bestselling author of the Magical Bakery Mysteries.  

"A sure-fire hit!  Water witches and magic potions, copious cups of tea, generations of rumors, and a close-knit loving family. I can't think of anything I want more in a mystery novel. A delight all the way through."
—Eva Gates, national bestselling author of the Lighthouse Library Mysteries

"Murder and magic blend to form an intriguing tale."
—Alexia Gordon, award-winning author of the Gethsemane Brown mysteries 

"A delightful new series from a fresh voice."
—Mollie Cox Bryan, Agatha Award nominee of the Cumberland Creek mysteries

"Esme Addison has penned a compelling cozy mystery [that] combines mermaids, magic, murder, and a heaping helping of charm."
—Dorothy St. James, author of the Southern Chocolate Shop mysteries 

"Addison will charm cozy readers with this delightful start to an enchanting new series." 
—Bree Baker, author of the Seaside Cafe mysteries