Oneness vs. the 1%: Shattering Illusions, Seeding Freedom (Paperback)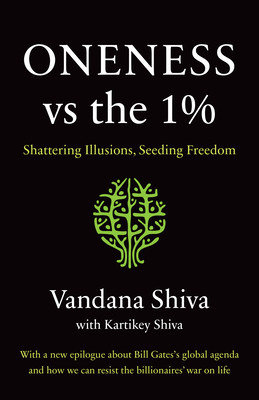 $19.95

On Our Shelves Now - Click to see location, time, and stock details
Description
---
With a new epilogue about Bill Gates's global agenda and how we can resist the billionaires' war on life
"This is what globalization looks like: Opportunism. Exploitation. Further centralization of power. Further disempowerment of ordinary people. . . . Vandana Shiva is an expert whose analysis has helped us understand this situation much more deeply."--Russell Brand
Widespread poverty, social unrest, and economic polarization have become our lived reality as the top 1% of the world's seven-billion-plus population pushes the planet―and all its people―to the social and ecological brink.
In Oneness vs. the 1%, Vandana Shiva takes on the billionaire dictators of Gates, Buffet, and Mark Zuckerberg, as well as other modern empires like Big Tech, Big Pharma, and Big Ag, whose blindness to the rights of people, and to the destructive impact of their construct of linear progress, have wrought havoc across the world. Their single-minded pursuit of profit has undemocratically enforced uniformity and monocultures, division and separation, monopolies and external control―over finance, food, energy, information, healthcare, and even relationships.
Basing her analysis on explosive facts, Shiva exposes the 1%'s model of philanthrocapitalism, which is about deploying unaccountable money to bypass democratic structures, derail diversity, and impose totalitarian ideas based on One Science, One Agriculture, and One History. Instead, Shiva calls for the resurgence of:
Real knowledge

Real intelligence

Real wealth

Real work

Real well-being
With these core goals, people can reclaim their right to: Live Free. Think Free. Breathe Free. Eat Free.