Jewel Box: Stories (Hardcover)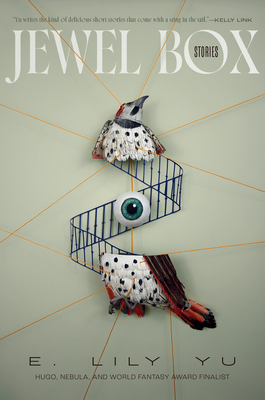 $27.00

Coming Soon - Available for Pre-Order Now
Description
---
The strange, the sublime, and the monstrous confront one another with astonishing consequences in this collection of twenty-two stories from award-winning writer E. Lily Yu.

In the village of Yiwei, a fallen wasp nest unfurls into a beautifully accurate map. In a field in Louisiana, birdwatchers forge an indelible connection over a shared glimpse of a Vermilion Flycatcher, and fall. In Nineveh, a judge who prides himself on impartiality finds himself questioned by a mysterious god. On a nameless shore, a small monster searches for refuge and finds unexpected courage.

At turns bittersweet and boundary-breaking, poignant and profound, these twenty-two stories sing, as the oldest fables do, of what it means to be alive in this strange, terrible, beautiful world. For readers who loved the intelligence and compassion in Kim Fu's Lesser Known Monsters of the 21st Century and the dreamlike prose of Kelly Link's Magic for Beginners, this collection introduces the short fiction of E. Lily Yu, winner of the Astounding Award for Best New Writer and author of the Washington Book Award–winning novel On Fragile Waves, praised by the New York Times Book Review as "devastating and perfect."
About the Author
---
E. Lily Yu is the author of the novel On Fragile Waves, which won the Washington State Book Award. She received the Artist Trust LaSalle Storyteller Award in 2017 and the Astounding Award for Best New Writer in 2012. Her stories have appeared in venues from McSweeney's to Tor.com, as well as thirteen best-of-the-year anthologies, and have been finalists for the Hugo, Nebula, Locus, Sturgeon, and World Fantasy Awards. You can find her at elilyyu.com.
Praise For…
---
"Like Oscar Wilde or Ray Bradbury, E. Lily Yu writes the kind of delicious short stories that come with a sting in the tail. Utterly beguiling." —Kelly Link, bestselling author of Get in Trouble

"You hold in your hand a collection of marvels – Yu's stories float like fairy tales and sting like bees.  Sometimes funny, often sobering, magic in every word."  —Karen Joy Fowler, bestselling author of We Are All Completely Beside Ourselves

"With the bone-ringing clarity of fairytales and the scientific precision of a star-map, Yu has an unfailing sense of how words work. With it, she delivers fresh insights into the ancient myth of Orpheus, evokes the Peter Beagle-esque magic of a unicorn roaming wild in New York's Central Park, and distills a man-eating monster's dysfunctional parenting patterns. Her words spark recognition and awe in us a thousand times, in a thousand different ways." —Nisi Shawl, Nebula Award finalist and author of Everfair

"E. Lily Yu has created a cabinet of curiosities with this collection, inviting us into the faceted worlds therein. Eclectic and erudite, equally adept with ordinary and the fantastic, what ties these stories together is Yu's brilliance and compassion; an insistence that the lives (and deaths) of anarchist bees, Babylonian judges, and amorous streetlamps are all worthy of being held up to the light." —Nino Cipri, award-winning author of Finna

"How many of these tales left me in tears? How many in a rage? How many in an ecstasy of wonder? Each one exceptional. Every sentence immaculate. Fearless, meticulous, masterful, E. Lily Yu's Jewel Box: Stories is clear as cut-crystal, with a drop of blood in every facet." —C. S. E. Cooney, author of Saint Death's Daughter

"Don't be fooled by the strangeness of her worlds or the fable-like quality of her stories. E. Lily Yu is relentless in her pursuit of the many truths that move our world and she does so with sharpness and kindness alike. Jewel Box is a kaleidoscope of stories that invoke wonder, empathy, and contemplation." —Eugenia Triantafyllou, author of The Giants of the Violet Sea