The Male Gazed: On Hunks, Heartthrobs, and What Pop Culture Taught Me About (Desiring) Men (Paperback)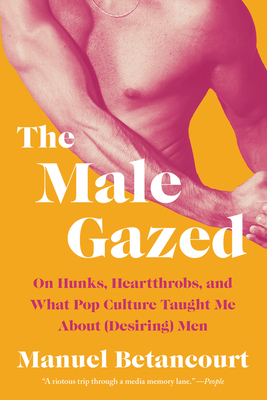 $16.95

Coming Soon - Available for Pre-Order Now
Description
---
Featuring deep dives into thirst traps, drag queens, Antonio Banderas, and telenovelas—all in the service of helping us reframe how we talk about (desiring) men—this insightful memoir-in-essays is as much a coming of age as a coming out book

Manuel Betancourt has long lustfully coveted masculinity—in part because he so lacked it. As a child in Bogotá, Colombia, he grew up with the social pressure to appear strong, manly, and, ultimately, straight. And yet in the films and television he avidly watched, Betancourt saw glimmers of different possibilities. From the stars of telenovelas and the princes of Disney films to pop sensation Ricky Martin and teen heartthrobs in shows like Saved By the Bell, he continually found himself asking: Do I want him or do I want to be him?

The Male Gazed grapples with the thrall of masculinity, examining its frailty and its attendant anxieties even as it focuses on its erotic potential. Masculinity, Betancourt suggests, isn't suddenly ripe for deconstruction—or even outright destruction—amid so much talk about its inherent toxicity. Looking back over decades' worth of pop culture's attempts to codify and reframe what men can be, wear, do, and desire, this book establishes that to gaze at men is still a subversive act.

Written in the spirit of Hanif Abdurraqib and Olivia Laing, The Male Gazed mingles personal anecdotes with cultural criticism to offer an exploration of intimacy, homoeroticism, and the danger of internalizing too many toxic ideas about masculinity as a gay man.
About the Author
---
Manuel Betancourt is a queer Colombian culture writer and film critic. His work has been featured in The New York Times, BuzzFeed Reader, Los Angeles Times, Film Quarterly, Los Angeles Review of Books and GQ Style, among others. Manuel is the author of Judy Garland's Judy at Carnegie Hall (Bloomsbury Press, 2020), and a contributing writer to the Eisner Award-nominated graphic novel series, The Cardboard Kingdom (Knopf Books for Young Readers, 2018 & 2021).
Praise For…
---
NPR, A Best Book of the Year
Time, A Best Book of the Year
The Boston Globe, A Best Book of the Summer
Esquire, A Best LGBTQ Book of the Year
Them, A Most Anticipated Book
Electric Literature, A Most Anticipated Book of the Year

"The Male Gazed, by the queer Colombian writer and film critic Manuel Betancourt, is a smart, refreshing essay collection on the subject, and deals directly and honestly with the paradoxes surrounding the topic of men . . . It's delightful, and perhaps cathartic, to see Betancourt turn the tables on masculinity by returning its gaze . . . A welcome perspective on a thorny, timely subject. Readers are sure to leave with a useful lens through which they can give masculinity a second look." —John Paul Brammer, The New York Times Book Review

"In this collection of essays, writer/critic Manuel Betancourt explores queer representation in media in an intensely personal, and uniquely engaging, manner. He recalls a childhood in Colombia as a 'soft and skinny' kid whose ideas about masculinity were shaped by a host of disparate influences—including Ricky Martin, Saved by the Bell, Calvin Klein ads, Disney films, Walter Mercado and Pedro Almodóvar—that will resonate with his many readers. Betancourt finds the through line of forbidden desire connecting them all and unpacks how his life as a writer and a gay man exists in an ever-evolving conversation with their notions of manhood." —Glen Weldon, NPR

"One of the Best New Books to Read in 2023." —Today

"How does one manage to intertwine astute observations on gender with a heartfelt recounting of 'staring agog' at Gaston in 1991's Beauty and the Beast? Writer and critic Manuel Betancourt knows, and does so masterfully . . . As much as The Male Gazed is a riotous trip through a media memory lane, the book also provides an opportunity to rethink our ideas about masculinity as a whole, and to embrace new ways of talking about intimacy, identity and gender roles." —Carly Tagen-Dye, People

"Hilarious and provocative." —Melanie Curry, Cosmopolitan

"The Male Gazed . . . untangles the simultaneous threads of desire to be a beautiful man, or to be with beautiful men, then unravels the implications of all of it to understand how those threads form the self. Betancourt is a preeminent thinker . . . who brings true intellectual rigor to his analysis of contemporary media." —Michael Colbert, Esquire

"One of the joys of Betancourt's expansive writing is how it invites readers to make their own connections, to slot their associations into the frameworks he presents as he fluidly examines a wide array media . . . Both criticism and memoir, the book holds no straightforward answers but insists that uncertainty and ambiguity are, in fact, the point." —Ilana Masad, them

"Betancourt's essays are thought-provoking, finely crafted, and hilarious." —BuzzFeed, A Most Anticipated Book of the Year

"[Betancourt] draws connections that feel both organic and surprising . . . The Male Gazed is a necessary and compulsively readable dissection of how pop culture both reflects and creates the world around us." —Richard Scott Larson, Slant Magazine

"Packed with a fascinating combination of personal stories and queer theory, The Male Gazed offers a fresh take on masculinity through a queer lens." —Tiernan Bertrand-Essington, Queerty

"Betancourt (Judy Garland's Judy at Carnegie Hall) makes gender theory both accessible and fun . . . [The] breadth of inquiry makes The Male Gazed feel well considered and charmingly personal as Betancourt denudes manhood of its preciousness. What he uncovers may be just enough to begin salvaging a robust and dynamic sense of masculinity from the toxic strains that have become so prevalent in social discourse." —Dave Wheeler, Shelf Awareness (starred review)

"[An] absorbing fusion of memoir and cultural analysis . . . A witty, educated, and entertaining analysis of the development of a writer's queer desire." —Kirkus Reviews

"Smart and probing essays . . . Betancourt's verve and wit elevate the prose, and the more personal entries are intimate and affecting . . . Readers won't want to put this one down." —Publishers Weekly

"Witty, erudite, and self-revealing . . . Readers seeking an honest portrayal of one gay man's voyage in the masculine imaginary will find a rich source of companionship." —Library Journal

"Manuel Betancourt crafts a style all his own in The Male Gazed: On Hunks, Heartthrobs, and What Pop Culture Taught Me About (Desiring) Men, a singular blend of cultural criticism, history, humor, and personal essays that sing, traversing continents, disciplines, and time—past, present, and future. Fascinating deep dives into carnal Almodóvar films, the iconic wrestling singlet, Ricky Martin thirst traps, and cartoon crushes are framed amid an unfolding coming-of-age narrative navigating queer and gender identity in Colombia and the United States. These pages sparkle with inherited pangs of pop culture nostalgia." —Emilly Prado, author of Funeral for Flaca

"In this sharp, sexy, and sparkling collection of essays, Manuel Betancourt leaves no rock-hard stomach unturned as he investigates how the most popular televised and filmic images of idealized masculinity are constructed, disseminated, and devoured by queer men, himself included. The Male Gazed is both history and his story: Betancourt deftly oscillates his critic's eye between the screen and the self too, reflecting on an upbringing in Colombia colored by swooning telenovelas and Disney's G-rated hunks, twinks, and twunks; on an adulthood in North America studded with friends turned lovers and lovers turned friends; on queer futures being made manifest in the present. Betancourt is a dream critic—as in, a fabulous scholar of dreams, of the desirous imagination." —Matt Ortile, author of The Groom Will Keep His Name

"A warm, personal dive into masculinity as it appears to us through pop culture. When Betancourt unpacks what it's meant to him to be a man, you can't help but trust every word." —Rax King, author of Tacky