Facing Georgetown's History: A Reader on Slavery, Memory, and Reconciliation (Hardcover)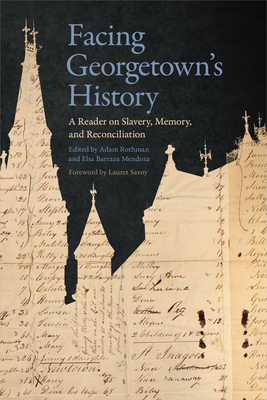 $29.95
Not Yet Published - Available for Pre-Order Now
Description
---
A microcosm of the history of American slavery in a collection of the most important primary and secondary readings on slavery at Georgetown University and among the Maryland Jesuits
Georgetown University's early history, closely tied to that of the Society of Jesus in Maryland, is a microcosm of the history of American slavery: the entrenchment of chattel slavery in the tobacco economy of the Chesapeake in the seventeenth and eighteenth centuries; the contradictions of liberty and slavery at the founding of the United States; the rise of the domestic slave trade to the cotton and sugar kingdoms of the Deep South in the nineteenth century; the political conflict over slavery and its overthrow amid civil war, and slavery's persistent legacies of racism and inequality. It is also emblematic of the complex entanglement of American higher education and religious institutions with slavery.
Important primary sources drawn from the university's and the Maryland Jesuits' archives document Georgetown's tangled history with slavery, down to the sizes of shoes distributed to enslaved people on the Jesuit plantations that subsidized the school. The volume also includes scholarship on Jesuit slaveholding in Maryland and at Georgetown, news coverage of the university's relationship with slavery, and reflections from descendants of the people owned and sold by the Maryland Jesuits.
These essays, articles, and documents introduce readers to the history of Georgetown's involvement in slavery and recent efforts to confront this troubling past. Current efforts at recovery, repair, and reconciliation are part of a broader contemporary moment of reckoning with American history and its legacies. This reader traces Georgetown's "Slavery, Memory, and Reconciliation Initiative" and the role of universities, which are uniquely situated to conduct that reckoning in a constructive way through research, teaching, and modeling thoughtful, informed discussion.
About the Author
---
Adam Rothman is a professor in Georgetown University's Department of History. He is the author of Beyond Freedom's Reach: A Kidnapping in the Twilight of Slavery, which was named the Humanities Book of the Year by the Louisiana Endowment for the Humanities and received the American Civil War Museum's book award. He is also the author of Slave Country: American Expansion and the Origins of the Deep South and the coauthor of Major Problems in Atlantic History. He served on Georgetown's Working Group on Slavery, Memory, and Reconciliation from 2015-16, and is currently the principal curator of the Georgetown Slavery Archive. He was a Distinguished Visiting Scholar at the John W. Kluge Center at the Library of Congress in 2018, where he created the podcast "African-American Passages: Black Lives in the 19th Century".Elsa Barraza Mendoza is a PhD candidate in history at Georgetown University and the assistant curator of the Georgetown Slavery Archive. She is a former Fulbright-Garcia Robles fellow. Her research has been supported by the Cushwa Center for the Study of American Catholicism and the Omohundro Institute of Early American History and Culture. She is currently writing her dissertation on the history of slavery on Georgetown's campus.