Are We Running Out of Water?: Mind Mappers—Making Difficult Subjects Easy To Understand (Environmental Books for Kids, Climate Change Books for Kids) (Hardcover)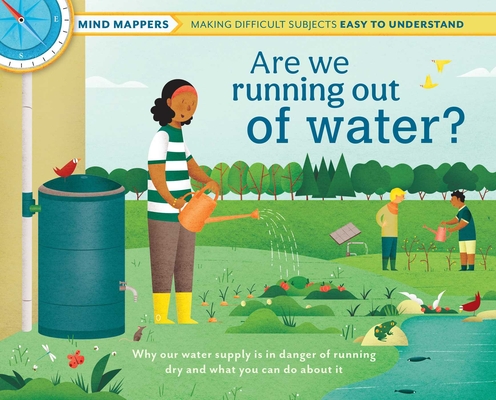 $19.99

On Our Shelves Now - Click to see location, time, and stock details
Description
---
A unique and beautiful approach to understanding one of the most important environmental issues facing humankind—access to clean, fresh water.

Scientists, engineers, academics, and environmentalists warn that unless water use is drastically reduced, severe water shortage will affect the entire planet by 2040. But what does that mean? Why? What should we do?

Are We Running Out of Water? unravels the issues and the answers using a visual thinking technique called mind mapping, which makes complicated subjects easy to understand. Beautiful illustrations bring the many issues, concepts, and solutions to life. This engaging, fascinating, and important read will inspire and empower young readers to do their part to protect the planet's most vital resource.

BEAUTIFUL ILLUSTRATIONS: Combines the beauty of a picture book with science-based facts and information.

TIMELY TOPIC: Inspired by activists like Greta Thunberg, kids are concerned about the environment and are taking active roles at home, school, and in the community to protect the planet.

UNIQUE APPROACH: Are We Running Out of Water? is structured using a visual thinking technique called "mind mapping," where complex ideas are broken down into a clear flow of visual information. The 'mind map' connects the information, making it easy to grasp.

ACCESSIBLE TO EVERY READER: The text is carefully layered and leveled for emerging to proficient readers.

COMPLETE THE COLLECTION: How Do We Stop Climate Change?: Mind Mappers also available.
About the Author
---
Isabel Thomas is an award-winning writer of science and nature books for young audiences. Her accolades include the 2020 AAAS Subaru Prize for Excellence in Science Books. Isabel writes for children's science magazines The Week Junior Science+Nature and Whizz Pop Bang. She also creates content for science outreach projects, including the Wellcome Trust's Explorify resource and Oxford University's Parents for STEM Futures project.

Born on the shores of the Atlantic Ocean, El Primo Ramón worked as an architect and a graphic designer and has a PhD in Graphical Expression. He gave this up to embrace his passion for illustration, and now produces gorgeous artwork for children's books, magazines, and to accompany radio shows.