Fly: The Big Book of Basketball Fashion (Hardcover)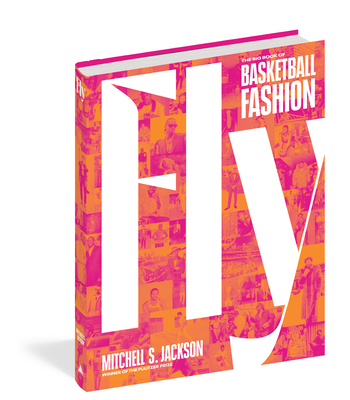 $40.00

On Our Shelves Now - Click to see location, time, and stock details
Staff Reviews
---
In assembling Fly, Pulitzer Prize-winning writer Mitchell Jackson has created a history of fashion like no other. By going through the eras of Basketball, Jackson gives us a full cultural tour of the intersection between Basketball and fashion. Ballers transforming America through not just their clothes, but how they wore them. — Christine
— From
Holiday Gift Guide: Gift Books
Description
---
Equal parts photo-rich lookbook, and cultural commentary, Fly: The Big Book of Basketball Fashion is the story of the extraordinary intersection of high fashion and basketball, from the league's inception to today, and celebrates the iconic style of NBA athletes.

Each chapter explores the style of an era and the cultural influences that shaped it: The league's inception in 1949, pre-Civil Rights Movement, when the NBA was mostly comprised of white players who wore suits and skinny ties. The years following the Civil Rights Act of 1964 and the birth of funk and R&B when basketball fashion got flashier (think Walt "Clyde" Frazier and Wilt Chamberlain wearing fur coats and big hats). The Michael Jordan era of the 1980s and 1990s, with its oversize suits. The epic Iverson/Hip-Hop years of the late 1990s and early 2000s. And now to today, a time defined not only by social media and high fashion's birthing of the tunnel walk (think LeBron James, Dwyane Wade, and Russell Westbrook), but one in which athletes are idealized as style icons and activists, figures who inspire conversations beyond how they play and what they wear.
 
About the Author
---
Mitchell S. Jackson is the winner of the 2021 Pulitzer Prize in Feature Writing and the 2021 National Magazine Award in Feature Writing. Jackson is the critically acclaimed author of The Residue Years, Survival Math: Notes on an All-American Family, and John of Watts (to be published soon). His other honors include fellowships, grants, and awards from the John Simon Guggenheim Foundation, Creative Capital, the Cullman Center of the New York Public Library, the Lannan Foundation, the Ford Foundation, PEN America, TED, the New York Foundation for the Arts, and the Center for Fiction. His writing has been featured on the cover of the New York Times Book Review, Time, Esquire, and Marie Claire, as well as in The New Yorker, Harpers, The New York Times, The New York Times Magazine, The Paris Review, The Guardian, The Washington Post Magazine, Harper's Bazaar, and elsewhere. Jackson's nonfiction book Survival Math was published in 2019 and named a best book of the year by fifteen publications, including NPR, Time, The Paris Review, The Root, Kirkus Reviews, and Buzzfeed. His next novel John of Watts will be published by Farrar, Straus and Giroux. Jackson is a contributing writer for the New York Times Magazine, covers race and culture as the first Black columnist in the history of Esquire, and serves as the John O. Whiteman Dean's Distinguished Professor in the English Department of Arizona State University.
Praise For…
---
"A coffee-table book that elevates the subject to the same decorative status as a Dior or Gucci monograph."—
The New York Times
"A gorgeous, glamorous look at the intersection of fashion and basketball."—
Bookpage
"Stunning photos and spot on cultural commentary."—
The Root
"Mitchell S. Jackson expertly fuses fashion and basketball, showing why players' off court style can be as impactful as what they do in the game." —NINA GARCIA, editor in chief, Elle
"In Fly, Jackson does more than compile a basketball/fashion look book, and it's more than a timeline and history. To me, what he explores is the evergreen push to remind people that the talented are more than their talents. That there's a burning creativity and a relentless desire to express oneself, not as a highlight but as a human." —JASON REYNOLDS, #1 New York Times bestselling coauthor of Stamped
"You cannot be a true enthusiast of sports or fashion if you don't own a copy of this book. European designers are too often credited with the trends that spread around the world, and Jackson shows us that those designs are nothing without validation from the streets where many NBA athletes get their start. In this beautiful celebration of culture, he captures the role these athletes have played in style on a global scale." —D. WATKINS, New York Times bestselling author of Where Tomorrows Aren't Promised and Black Boy Smile
"NBA fashion has evolved so much over the years. To see the various styles worn by players throughout the eras—all in one book—is cool. Now with social media and the game being so global, everyone sees everything. NBA fashion has never been bigger." —P.J. TUCKER, Philadelphia 76ers