The Love Match (Hardcover)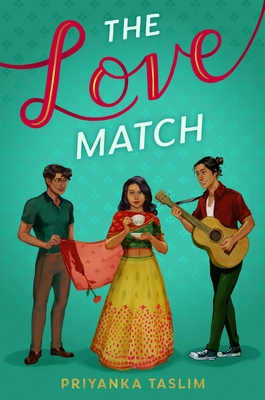 $19.99

On Our Shelves Now - Click to see location, time, and stock details
Description
---
"Jane Austen meets Bengali cinema" (Publishers Weekly) in this delightful and heartfelt rom-com about a Bangladeshi American teen whose meddling mother arranges a match to secure their family's financial security—just as she's falling in love with someone else.

Zahra Khan is basically Bangladeshi royalty, but being a princess doesn't pay the bills in Paterson, New Jersey. While Zahra's plans for financial security this summer involve working long hours at Chai Ho and saving up for college writing courses, Amma is convinced that all Zahra needs is a "good match," Jane Austen style.

Enter Harun Emon, who's wealthy, devastatingly handsome, and…aloof. As soon as Zahra meets him, she knows it's a bad match. It's nothing like the connection she has with Nayim Aktar, the new dishwasher at the tea shop, who just gets Zahra in a way no one has before. So, when Zahra finds out that Harun is just as uninterested in this match as she is, they decide to slowly sabotage their parents' plans. And for once in Zahra's life, she can have her rossomalai and eat it too: "dating" Harun and keeping Amma happy while catching real feelings for Nayim.

But life—and boys—can be more complicated than Zahra realizes. With her feelings all mixed up, Zahra discovers that sometimes being a good Bengali kid can be a royal pain.
About the Author
---
Priyanka Taslim is a Bangladeshi American writer, teacher, and lifelong New Jersey resident. Having grown up in a bustling Bangladeshi diaspora community, surrounded by her mother's entire clan and many aunties of no relation, her writing often features families, communities, and all the drama therein. Currently, Priyanka teaches English by day and tells all kinds of stories about Bangladeshi characters by night. Her writing usually stars spunky Bangladeshi heroines finding their place in the world—and a little swoony romance, too. You can connect with her on Twitter and Instagram @BhootBabe and check out her website, PriyankaTaslim.com.
Praise For…
---
* "Candid, textured, and amusing: a novel readers will devour in one sitting."—Kirkus Reviews, starred

* "Zahra is an admirable descendant of many Austen heroines: sharp, witty, and observant as Elizabeth Bennet, youthfully short-sighted like Emma Woodhouse, but also possessing the steady character and sense of purpose of Eleanor Dashwood…[A] stunning debut."—The Bulletin of the Center of Children's Books, starred

"Jane Austen meets Bengali cinema in Taslim's joyful debut...a textred exploration of intersectional South Asian Muslim identity."—Publishers Weekly

"The Love Match is a beautiful celebration of Bangladeshi culture. It will at once make you laugh out loud with its humour, while pulling at your heartstrings with its portrayal of family, first loves, and class disparity. It's a love story that's everyone's cup of cha."—Adiba Jaigirdar, author of The Henna Wars and Hani and Ishu's Guide to Fake Dating

"I'm obsessed with everything about The Love Match! Filled with humor and hijinks and happily ever after, this book is a joy from beginning to end."—Axie Oh, author of the New York Times bestseller The Girl Who Fell Beneath the Sea

"Culturally rich and positively heartwarming like a cup of tea, The Love Match is full of big-hearted characters and stars a protagonist who is impossible not to root for. Big dreams, true love, and a family that loves fiercely and tenderly, all at once…why can't a girl have it all?"—Lyla Lee, author of I'll Be the One and Flip the Script

"Oh-so-sweet and swoonworthy, The Love Match is a book that will live in your heart for years to come. Zahra is just the kind of heroine I root for: headstrong, loveable, and true to her passions despite so much personal loss. I was captivated every step of the way. And with the seemingly-cold-but-trustworthy Harun and the charming, princelike Nayim tugging on every heartstring, you've got the perfect brew for the ultimate giddy romance."—Farah Naz Rishi, author of It All Comes Back to You

"Weaving together the intricate threads of Bangladeshi culture and diaspora life with the deftness of Amma's hand, Taslim presents a beautifully nuanced story about how love will always be a family affair."—Jennifer Yen, Author of A Taste for Love and Love, Decoded

"Priyanka Taslim's The Love Match is witty, smart, and absolutely charming. A required addition to any romance-lover's shelf!"—Nisha Sharma, award winning author of YA and contemporary romance

"Priyanka Taslim's debut sweeps you into an immersive Bangladeshi American community in which new love clashes with old ways. Zahra Kahn is on the cusp of her own coming-of-age, balancing the mounting familial pressure and traditional values with the secret yearnings of her own heart. Taslim walks this tightrope expertly, delivering heartbreak and hope in equal measure. The Love Match is a story about the strength of community, the cost of dreams, and the bravery it takes to fight for both."—Lillie Vale, author of Beauty and the Besharam

"A delightful YA rom com! With hilarious and vibrant prose, this lovingly crafted story is about a Bangladeshi-American teenager finding her place in her community and culture. I couldn't help but fall in love with Zahra, her friends, and her whole family. A sweet story about identity, family, and the joy of discovering that people aren't always what they seem. This book is such a delight!"—Farah Heron, Author of Tahira in Bloom and Accidentally Engaged