Queer Voices: Poetry, Prose, and Pride (Paperback)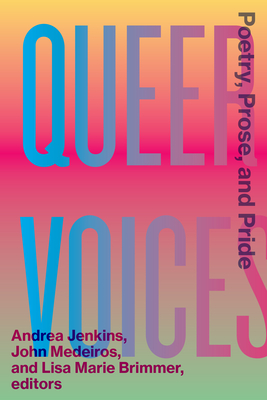 $18.95

Not In Store - Available to special order for pickup or ship. For even speediest shipping we suggest our Bookshop.org page!
Description
---
Since its beginnings in 1993, the Queer Voices reading series has featured both emerging and established Minnesota-based writers of the LGBTQIA+ community. With a track record of more than twenty years, the series has become a national model and one of Minnesota's most important literary institutions. It is reputed to be the longest-running curated queer reading series in the country.
In this volume, series curators John Medeiros and Andrea Jenkins and facilitator Lisa Marie Brimmer present the finest poetry, fiction, and nonfiction pieces by the presenters. Their work, generated and performed in a powerful space of understanding, explores the material of life without internal or external censorship. Living, loving, working, learning, playing, reflecting, knowing, inventing, and being--these magnificent queer voices affirm the importance of civil literacy and the power of vulnerability.
Contributors: Elizabeth Jarrett Andrew, Cole Bauer, Ryan Berg, Stephani Maari Booker, Lisa Marie Brimmer, Kimberly J. Brown, Nate Cannon, Anthony Ceballos, Stephanie Chrismon, James Cihlar, Venus de Mars, Jay Owen Eisenberg, Kelly Frankenberg, Ben French, Julie Gard, Christina Glendenning, Rachel Gold, Molly Beth Griffin, CM Harris, Andrea Jenkins, Kristin Johnson, Bronson Lemer, Raymond Luczak, Catherine Lundoff, Josina Manu Maltzman, John Medeiros, Nasreen Mohamed, Michael Kiesow Moore, Ahmad Qais Munhazim, Gary Eldon Peter, Junauda Petrus, Trina Porte, William Reichard, katie robinson, Dua Saleh, Lucas Scheelk, Erin Sharkey, Christine Stark, Vanessa Taylor, Bradford Tice, Ann Tweedy, Morgan Grayce Willow, S. Yarberry, Ariel Zitny.
About the Author
---
Andrea Jenkins, a member of the Minneapolis City Council, is a writer, performance artist, poet, and transgender activist. John Medeiros is a writer and immigration attorney living in Minneapolis. Lisa Marie Brimmer is a writer, performance artist, and cultural strategist living in Minneapolis