The King Arthur Baking School: Lessons and Recipes for Every Baker (Hardcover)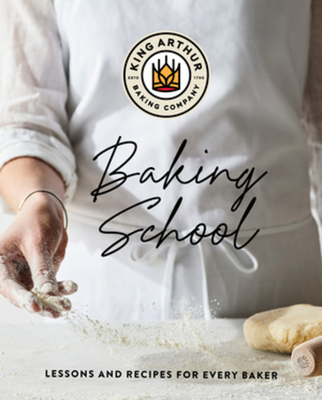 $45.00

On Our Shelves Now - Click to see location, time, and stock details
Staff Reviews
---
For those of us who are weirdos about flour, the King Arthur cookbooks are already beloved treasures! But assuming you do not obsess about your brand of flour, you still want the legendary baking school to teach you how to bake. The beauty of this cookbook is that it goes beyond recipes and emphasizes the teaching aspect and helps you grow as a baker. This book is a gift of both delicious treats and confidence!
— Hannah
Description
---
In its first full-color cookbook, the renowned Baking School at King Arthur shares more than 100 recipes and essential techniques.
A Food & Wine Best Cookbook of 2022
Baking is a craft, one that has been celebrated by King Arthur Baking Company for more than two centuries. Their Baking School, an essential part of the King Arthur community, is now a book to cherish. It reflects a curriculum that has been honed and refined over the years, with instructors who are experts not just at baking, but at teaching baking. The recipes, notes, instructive photographs, and thoughtfully organized chapters here reflect this depth of experience. From Yeast Breads to Sourdough, Laminated Pastries to Pies and Tarts, Cookies to Cake, readers gain confidence as they play in the kitchen and build new skills. King Arthur's unique approach is friendly and accessible to all levels, focusing on the "how" and "why." So much of the magic of baking is understanding how the ingredients interact, trusting when bread dough is proofed, appreciating how buttercream comes together. Welcome to Baking School!
About the Author
---
King Arthur Baking Company has been a trusted baking resource since 1790, providing expert guidance, inspiration, and premium baking products, along with workshops and classes at its two respected baking schools (Vermont and Washington State).
Praise For…
---
For years I've wanted to take classes at the King Arthur Baking School. Now, all I've got to do is walk into my kitchen: everything that the school teaches so famously well is in this remarkable book. Each recipe builds on what you've learned, each chapter takes you a little further, each Master Class ensures that you've got the skills. It's brilliant...delicious fun.
— Doris Greenspan, author of Baking with Dorie and Everyday Dorie

King Arthur Baking School is where bakers, of all skills, will turn to for guidance. From cookies to laminated doughs and yeasted bread, their team of experts shows you how to bake with confidence and success. You can go straight to the trusted recipes or move through the book like going to culinary school. This cookbook is the companion every kitchen will have on its shelf! 
— Zoe Francois, author of Zoe Bakes Cakes and Artisan Bread in Five Minutes a Day

The regal grain brand is back with another resource for flour fans in this thorough guide to the hows, whys, science, and art of baking. Commonly asked questions, such as how to tell when a sourdough starter is "ripe," and pro tip callouts simulate the classroom experience of the baking classes King Arthur offers (and which are attended by 10,000 bakers annually), with pointers such as using weight over volume in measurements, adding eggs one at a time to a batter (for better emulsification), or including a touch of cake flour in a puff pastry recipe (for enhanced moisture absorption)....This is a compendium that bakers who want to get better and better will refer to over and over. 
— Publisher's Weekly, Starred Review

When it comes to high-quality ingredients and savvy baking how-to's, nothing beats King Arthur Baking Company. The Vermont-based brand has been educating bakers since 1790, and their most recent book celebrates both baking and learning. Made for newbies and baking-pros alike, Baking School has over 100 recipes from easy bakes to daunting projects. Baking School offers clear instructions that have been honed over the company's tenure for trickier projects like laminating pastry dough. The title of the book is so fitting: following King Arthur's carefully tested recipes, reading their detailed explanations, and looking at their gorgeous and informative photography will quickly hone your baking skills. Baking School is truly the essential guide to baking.
— Food & Wine

King Arthur has a new book, Baking School, coming out in October, and it truly is the most gorgeous, distinctive, and most educational baking book I've seen in a long, long time. I just made the blueberry muffins from the book and I will never use any other recipe going forward.
— Forbes