The King Arthur Baking Company Essential Cookie Companion (Hardcover)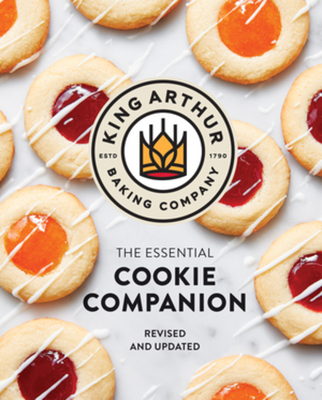 $35.00

On Our Shelves Now - Click to see location, time, and stock details
Description
---
Newly revised and updated—The must-have cookie cookbook for bakers of all levels with over 400 recipes from America's most trusted baking resource.
From the perfect chocolate chip cookie (whether you prefer it chewy, crisp, or in-between) to simple sugar cookies ranging in flavor from lemon to cinnamon to vanilla, from brownies and blondies to shortbread, graham crackers, macaroons, chocolate biscotti—you'll discover more than 400 delightful cookies in these pages. From classic flavors to modern techniques, these recipes will inspire and satisfy cookie lovers and bakers at every skill level. King Arthur Baking Company's talented and trusted test kitchen experts provide an overview of essential cookie ingredients—updated and revised—along with step-by-step instructions and illustrations that result in visually impressive and incredible-tasting cookies. Recipes are enhanced with sidebars full of hints, shortcuts, troubleshooting advice, and recipe lore. With tips on substitutions and variations; information about gluten-free flours; details on measuring and weighing ingredients; instructions for making icings, fillings, and dips; and even advice on high-altitude baking, this truly is the ultimate cookie cookbook.
About the Author
---
King Arthur Baking Company has been a trusted baking resource since 1790, providing expert guidance, inspiration, and premium baking products, along with workshops and classes at its two respected baking schools (Vermont and Washington State).
Praise For…
---
This comprehensive handbook includes all the best advice, guidance, and tried-and-true recipes most home bakers will ever need; an essential addition to any collection serving enthusiastic cookie bakers.
— Library Journal

King Arthur cookbooks will always be a staple in my kitchen library. Their beautifully precise recipes do the job all of us who write recipes for a living aim to do: hold the reader's hand just enough to clearly guide them to a delicious result (cookies, in this case) while also teaching solid skills along the way.
— Food & Wine

For a practical and comprehensive guide to everything from baking the perfect brownie to building a gingerbread house, The King Arthur Baking Company Essential Cookie Companion has you covered.

— Susan Puckett - The Atlanta Journal-Constitution

King Arthur has written an essential tome of cookie wisdom. Throughout the book you will find tips and tricks, troubleshooting guidance, instructional illustrations, and, of course, well-tested recipes. The original Cookie Companion has been on my bookshelf for years, and I know this revised edition will be both well loved and well used in my kitchen in the years to come.

— Sarah Kieffer, author of 100 Cookies

There's no one I trust more than the bakers at King Arthur with the task of creating the ultimate compendium of cookies. With recipes ranging from chewy chocolate chip cookies (with a surprising secret), classic molasses cookies, and buttery shortbreads, to global favorites like biscotti, linzer bars, alfajores, and Parisian macarons (oh-la-la!), there's something for everyone in this generous collection.
— David Lebovitz, author of Drinking French and The Perfect Scoop

The always-trustworthy King Arthur Baking Company team has written a book for America's favorite dessert category that would make an amazing gift for any cookie fanatic. From teaching readers how to spread jam smoothly to sharing a hack for slicing dough, they spare no details, helping everyone to become expert cookie bakers.
— Vallery Lomas, author of Life Is What You Bake It

When it comes to recipes, you can trust King Arthur Baking Company to deliver the very best—and The Essential Cookie Companion is no exception. Bakers of any skill level will appreciate the in-depth instructions. The successful, freshly baked cookies are, of course, a delicious bonus!

— Sally McKenney, author of Sally's Baking Addiction

King Arthur is always my go-to source, from initial recipe research to example recipes of perfected classics. With King Arthur, I know that I'll get the full story: the what, the how, and, most importantly, the why of creating excellent baked goods. That's why The Essential Cookie Companion, with its detailed illustrations, crystal clear explanations, and inviting images, is an essential resource for baking novices and experienced bakers alike.

— Samantha Seneviratne, author of The Joys of Baking