2022 History Channel This Day in Women's History Boxed Calendar: 365 Extraordinary Women and Events That Shaped History (Moments in HISTORY® Calendars) (Calendar)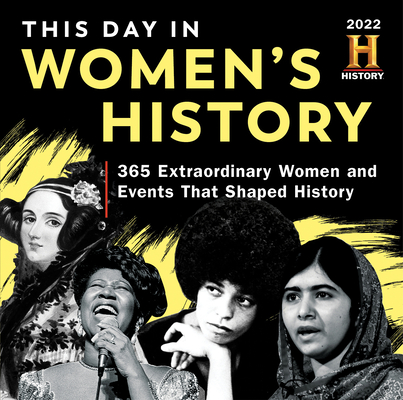 Description
---
Fighters, innovators, and trailblazers—this 2022 daily desk calendar celebrates the strong women who shattered barriers and changed the world!
From athletes to architects, pilots to politicians, women have shaped every area of history. In this 2022 inspirational boxed calendar, enjoy 365 days of powerful and courageous women role models with a page each day honoring some of the most remarkable achievements and legendary icons. From one of the most relied-upon sources of historical material and maker of the #1 history calendar, HISTORY® presents this empowering day-by-day record of extraordinary women throughout the ages and all over the world!
Perfect for women's history lovers, teachers, and trivia fans alike, this on this day calendar of events is the ideal inspirational gift for strong women, feminist gift, holiday stocking stuffer, Mother's Day gift, and the perfect fun gift for moms, daughters, or friends who already have everything else!
Additional details:
4.25" x 4.5"page trim size with protective 5" x 5" outer box
100% recyclable and plastic-free with no shrink-wrapping! Cardboard easel backing is perfect for sturdy display on tabletop or desk
Environmentally responsible, FSC certified paper
Daily calendar with easy, tear-off pages featuring 365 days of fierce and famous women, inspiring girls, and memorable events
Holidays and observances
About the Author
---
HISTORY (TM) is the leading destination for revealing, award-winning, original non-fiction series and event-driven specials that connects history with viewers in an informative, immersive and entertaining manner across multiple platforms. Programming covers a diverse variety of historical genres ranging from military history to contemporary history, technology to natural history, as well as science, archaeology and pop culture.