Sweet People Are Everywhere (Children Around the World Books, Diversity Books) (Hardcover)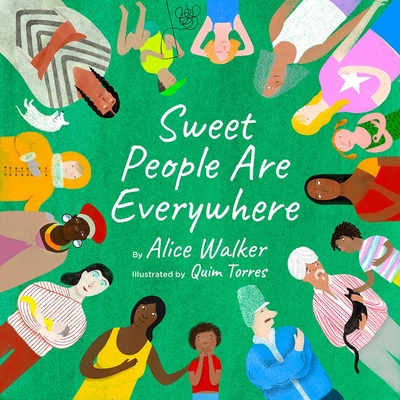 $18.99

On Our Shelves Now - Click to see location, time, and stock details
Description
---
"Deepened and expanded by its illustrations, this is a stunning introduction to the true meaning of a global community."—School Library Journal

They are all over the globe. Sweet people can be found from Canada to Congo to Cuba, from Afghanistan to Australia, from Ireland to Iraq…there are sweet people in the thirty-seven places listed in these pages and almost everywhere else on the planet. Take a trip through the lines of this large-hearted poem by Alice Walker and meet some of them!


Sweet People Are Everywhere, an illustrated picture book featuring a poem by internationally renowned writer and activist Alice Walker, is a powerful celebration of humanity. The poem addresses a young boy getting his first passport, taking the boy––and the reader––on a journey through a series of countries around the globe where "sweet people" can be found. Walker's heartening message is celebrated through Quim Torres' deeply felt illustrations.

About the Author
---
Alice Walker, winner of the Pulitzer Prize and the National Book Award, is a canonical figure in American letters. She is the author of The Color Purple, The Temple of My Familiar, Horses Make a Landscape Look More Beautiful, The Way Forward Is with a Broken Heart, Now Is the Time to Open Your Heart, and many other works of fiction, poetry, and nonfiction. Her writings have been translated into more than two dozen languages, and more than fifteen million copies of her books have been sold worldwide.

Quim Torres is an award-winning illustrator and author based in Barcelona. He has illustrated several children's books, including the recent Tra Publishing titles Sweet People Are Everywhere by Alice Walker and The Rare, Tiny Flower by Kitty O'Meara (both 2021). He has studied art as healing and Gestalt psychology, and he teaches workshops in which drawing becomes a means of self-discovery. He believes that people are made of stories, and he hopes his drawings inspire others to share their tales. He feels that art is a healing force.
Praise For…
---
As always, Alice Walker points us in the direction of our humanity. "Sweet People Are Everywhere" is a meditation on the human spirit and although written for children, it offers us all an invaluable opportunity to see ourselves in others.
— LeVar Burton, actor, director, educator and host of Reading Rainbow

Alice Walker's lovely words take us on a journey around the world and remind us there are good people everywhere. What a wonderful addition to the shelves of multicultural literature. This is a book for little and big humans alike.
— Karen Katz, author / Illustrator The Colors of Us and My America

In Sweet People Are Everywhere, Alice Walker's appreciation for the tender and expansive possibilities in human connection is beautifully rendered. Children and adults alike will be inspired to remain soft through encounters with diverse peoples and moments across continents. There's joy in Alice Walker's world.
— Chana Ginelle Ewing, author of the bestselling book, An ABC of Equality

"The poetic stylings of Alice Walker will convince children across the world that Sweet People Are Everywhere... Children of all ages will be able to enjoy the illustrations; the timeless images show how beautifully diverse the world is."
— Seattle Book Review