Return of the Freedom Thief (Paperback)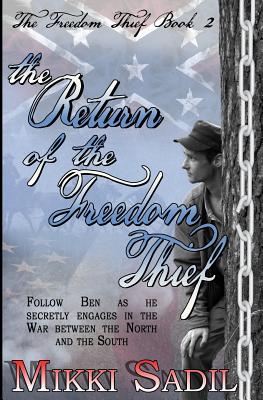 Available to order- email info@loyaltybookstores.com
Description
---

When the Civil War is declared, his brothers join the Confederate Army, and Ben decides to become a spy for the Union Army. His grandmother sends him to a lady friend in Lexington who runs an espionage ring, and his troubles begin. When his first mission is hampered by a young girl, Puck, who attaches herself to him, he is afraid his future spying activities will be compromised, but she becomes a loyal ally.

At first, Ben works as a newsboy, since they are welcomed into both Confederate and Union camps, and Puck follows along with him, pretending to be his sister. But when he becomes an agent with the espionage ring, his missions become so dangerous that he must leave Puck behind. He embarks upon a journey already deeply mired in danger, deceit, and deception.

Every mission, every move he makes, is a distinct threat to his life, and he often wonders if he will ever return home. Follow Ben as he secretly engages in the War between the North and the South, and as he realizes, perhaps too late, that his own survival is not guaranteed.