Sweet Bean Paste: The International Bestseller (Paperback)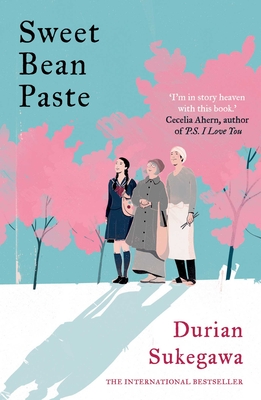 $16.99

Not In Store - Available to special order for pickup or ship. For even speediest shipping we suggest our Bookshop.org page!
Staff Reviews
---
What a sweet story! This book reminded me of the film Tampopo, in its reverence for food - in this case dorayaki, which is a kind of pancake filled with sweet bean paste. There is a lovely simplicity to the story, the kind that makes you appreciate things like the return of cherry blossom season and the exquisiteness of a favorite treat. While there is a poignant thread throughout the book, Sweet Bean Paste is an ultimately heartwarming story that reflects on the value of friendship and on every being's contribution to the world, no matter how seemingly small that might be.
— Christine
Description
---
'I'm in story heaven with this book.' Cecelia Ahern, author of P.S. I Love You

A charming tale of friendship, love and loneliness in contemporary Japan

Sentaro has failed. He has a criminal record, drinks too much, and his dream of becoming a writer is just a distant memory. With only the blossoming of the cherry trees to mark the passing of time, he spends his days in a tiny confectionery shop selling dorayaki, a type of pancake filled with sweet bean paste.

But everything is about to change.

Into his life comes Tokue, an elderly woman with disfigured hands and a troubled past. Tokue makes the best sweet bean paste Sentaro has ever tasted. She begins to teach him her craft, but as their friendship flourishes, social pressures become impossible to escape and Tokue's dark secret is revealed,
with devastating consequences.

Sweet Bean Paste is a moving novel about the burden of the past and the redemptive power of friendship. Translated into English for the first time, Durian Sukegawa's beautiful prose is capturing hearts all over the world.
About the Author
---
Durian Sukegawa studied oriental philosophy at Waseda University, before going on to work as a reporter in Berlin and Cambodia in the early 1990s. He has written a number of books and essays, TV programmes and films. He lives in Tokyo.

Alison Watts is a freelance translator, translating literature from Japanese into English. She lives in Ibaraki, Japan.
Praise For…
---
'Simply delicious.'
— Guardian

'I'm in story heaven with this book.'
— Cecelia Ahern, author of PS, I Love You

'Charmingly written, the plot is a continual surprise. A tale of sorrow that feels uplifting by its end.'
— i (The Independent)

'As wise as it is moving, Sukegawa's novel beguiles and seduces the reader from evocative opening to compassionate close.'
— The Herald

'A poignant, poetic fable.'
— Denis Thériault, author of The Peculiar Life of a Lonely Postman

'Sweet Bean Paste is a subtle, moving exploration of redemption in an unforgiving society... Sukegawa's writing style, delicately translated by Alison Watts, is well-matched to the subject matter: a slow, muted movement that gently guides the reader, while leaving the unnecessary unsaid... It is an original twist on the "odd couple" genre, in which two unlikely companions find they have much to offer each other, and retains much of the humour that genre entails. A book with deceptive heft and lingering resonance.'
— Japan Times

'Enthralling...This is that rare book that leaves readers truly humbled, reminding us of everything we should be thankful for, and that it is never too late to do something with our lives.'
— The Bookbag

'A polished piece of work, and a decent, touching read.'
— Complete Review

'A beautifully rendered tale of outsiders coming together.'
— B&N Reads

'Charming and uplifting.'
— Press Association

'Sukegawa – enabled by Watts's lucid translation – tells an endearing, thoughtful tale about relationships and the everyday meaning of life... Readers in search of gently illuminating fare – e.g., Shion Miura's The Great Passage, Jeff Talarigo's The Pearl Diver – will appreciate this toothsome treat.'
— Library Journal

'Although Tokue's past is a reflection of a dark chapter of Japanese history, her wisdom, patience, and kindness shape this touching and occasionally wistful novel. Through Tokue's story, Sukegawa eloquently explores the seeds of biases and challenges us to truly listen to the natural world and the messages it artfully hides.'
— Booklist

'A perfect example of cover and content in total harmony – I love this little masterpiece.'
— Gary Powell, Foyles

'An ode to cuisine and to life. Poignant, poetic, sensual: a treat.'
— Lausanne Cités

'Sweet Bean Paste is a short book that can be read quickly, yet it unfolds at a relaxed pace. The changing seasons provide reference points for the changes in the characters, but never in a way that seems forced.'
— The Japan News

'This mixture of grief and solace, cherry blossoms and red beans is a recipe for happiness.'
— Radio SRF 2 Kultur Kompakt

'Sweet Bean Paste is a book for your heart, mind...and appetite... It feels important, significant and far-reaching. It really is a moving and inspiring story which is as heart-warming as a delicious dorayaki, well maybe with a bit of salt. It is not often that a book touches your very soul and, therefore, Sweet Bean Paste deserves the highest of marks.'
— Thoughts on Papyrus blog