My Darkest Prayer (Paperback)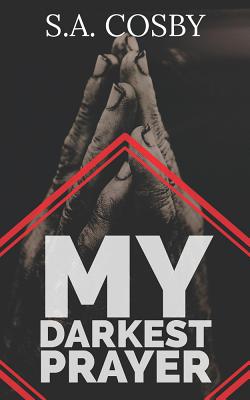 Staff Reviews
---
S.A. Cosby always writes these incredible nail biting, hanging off the side of your bed staying up until 3am stories. My Darkest Prayer is no different, set into a small town where corrupt police, crime, wannabe gangstas and secrets evolve. Our main character Nathan must navigate figuring out the truth in a town that seems everything but!
— Chardai
December 2022 Indie Next List
---
"Former deputy Nathan Waymaker agrees to look into the sudden death of a beloved preacher of a Black church in a small Southern town. Cosby is a master of drawing you into a world where every knock on the door sounds like a harbinger of death."
— Alden Graves, Northshire Bookstore, Manchester Center, VT
Description
---
Whether it's working at his cousin's funeral home or tossing around the local riff raff at his favorite bar, Nathan Waymaker is a man who knows how to handle the bodies. A former Marine and Sheriff's deputy, Nathan has built a reputation in his small Southern town as a man who can help when all other avenues have been exhausted. When a local minister with grandiose ambitions is found dead, Nathan is approached by his parishioners who feel the local police are dragging their feet with the investigation. What starts out as an easy payday soon descends into a maze of mayhem filled with wannabe gangsters, vicious crime lords, porn stars, crooked police officers and a particularly treacherous preacher and his mysterious wife. Nathan must use all his varied skills and some of his wit to navigate the murky waters of small town corruption even as dark secrets of his own threaten to come to the surface.
About the Author
---
S.A. Cosby is a writer whose work has been published in numerous magazine and anthologies. His story "Slant-Six" received an honorable mention in Best Mystery Stories of 2016. He lives in Gloucester, Virginia.
Praise For…
---
"A brilliant and bracing slice of post-modern crime noir, spiced with a ton of action. S. A. Crosby has created a dark hero two parts Jack Reacher, one part Travis Magee. Your prayers for a great thriller have been answered!" —Jon Land, thriller reviewer for the Providence Journal, USA Today; bestselling author of the Murder, She Wrote series and the Caitlin Strong series

"A compelling character, a tangled mystery and crisp writing make this southern-fried investigation a hit. Rarely have I read a debut so self-assured. On nearly every page was a line I wish I'd written. S.A. Cosby has arrived fully formed." —Eric Beetner, author of Rumrunners and Leadfoot

"With his debut novel My Darkest Prayer, author S.A. Cosby enters the crime fiction arena shoulder first, splintering open the door, and announcing his presence with a resounding crash. Consider yourself warned: his presence has been announced." —Eryk Pruitt, award-winning screenwriter, author, and filmmaker

"A natural born storyteller, Cosby answers our prayer for a down and dirty mystery with this damn fine debut full of unforgettable people, where a sleazy preacher uproots a down county southern community when he lands on the mortuary slab. A great read, hopefully the first of many." —Thomas Pluck, author of Bad Boy Boogie

"WOW. The book is like a quick punch to the gut—it grabbed me from the first pages and kept me reading 'just one more chapter' until before long I was barreling to the end." —Shawn Reilly Simmons, author of The Red Carpet Catering Mysteries

Interview and book review —http://www.toughcrime.com/2018/12/my-darkest-prayer-by-sa-cosby-reviewed.html

Book review —Crimespree, http://crimespreemag.com/my-darkest-prayer-by-s-a-cosby/

"The only way Shawn Cosby's writing can hit any harder is if you built a time machine, travelled back to 1973, shredded the book, stuffed George Foreman's glove with the paper, and let him hit you full-force to the liver." —Todd Robinson, founder of ThugLit Magazine; author of The Hard Bounce

"Shawn Cosby knows how to turn a phrase. His similes are as masterful as they are entertaining. The man can write a hell of a fight scene, coupled with some authentic dialogue, and that's a perfect combination. Recommended? Absolutely." —Paul Heatley, Mystery Tribune