Joan Jett & The Blackhearts 40x40: Bad Reputation / I Love Rock-n-Roll: Bad Reputation / I Love Rock-n-Roll (Paperback)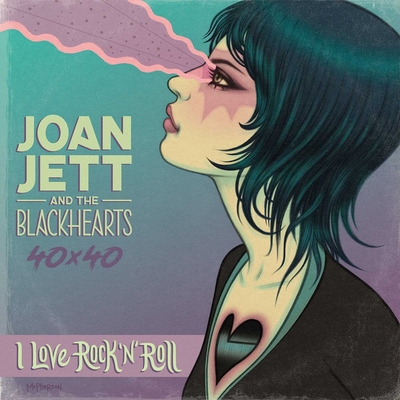 $24.99

On Our Shelves Now - Click to see location, time, and stock details
Description
---
Comics biggest talents come together to form an exciting all woman team of creators and bring you stories to celebrate the 40th anniversary of Joan Jett's seminal albums!

"BAD REPUTATION and I LOVE ROCK 'n' ROLL hit audiences like an atom bomb, defining a sound that became a soundtrack that would span generations. Now, in celebration of the 40th anniversary of these seminal albums, an unparalleled team of women creators bring these songs to life as 20 stories."
About the Author
---
Since founding The Blank Corporation with Neil Gaiman back in 2016, Cat Mihos has helped build and oversee their expansive TV and film slate, including shows such as BBC's Good Omens, Starz' American Gods, and the upcoming Sandman series with Netflix. Prior to working in film and television, Cat worked in the live music industry and toured the world with acts such as Britney Spears, Lady Gaga, Mötley Crüe, Tool, and many more. She is also a published author and enjoys making art out of glass and old comics.

Annie Zaleski is a Cleveland-based author, editor, and journalist whose work has appeared in dozen of publications including NPR Music, The Guardian, Rolling Stone, Salon, and Billboard.

The Winner Twins are America's Youngest Multiple Award Winning Authors authors and identical twin sisters Brittany and Brianna Winner have written four science fiction novels, a writing book and several comic books.
The twins have won numerous awards for their novels including Best Young Adult Fiction and Best First Book Fiction. Brittany and Brianna have been featured in the media in newspapers, online and in TV shows on CNN, G4, ABC, HLN and the CW.
The twins also founded and run a nonprofit, Motivate 2 Learn, which they use to teach their award winning writing method in schools across the country and internationally.
Brittany and Brianna have spoken and taught to over one hundred fifty thousand students, teachers, and professionals. Their careers started at the age of twelve when their first novel became a national best seller and they are officially recognized as prodigies by The World Council for Gifted and Talented Children.

Desi Alicea-Aponte is a visual storyteller and illustrator currently residing in Texas

LEAH MOORE is a writer, born in Northampton, England, in 1978.

Her career began in 2002 with scripts written for America's Best Comics (ABC).

Since 2003 she has also co-written comics and Graphic Novels with her husband, John Reppion, as Moore & Reppion.

Leah's published work includes scripts for DC Comics, Dynamite Entertainment, Heavy Metal Magazine, 2000 AD, Shelly Bond's Black Crown Publishing, and Z2 Comics. Her poetry and prose have been published in several anthologies, and she has written columns and articles for the likes of Comic Heroes Magazine, and The Big Issue.

2021 saw the publication of Morrison Hotel - a Graphic Novel based on the album of the same name by The Doors - which Leah wrote for Z2 Comics.

2022 will see the release of Mötley Crüe - The Dirt: Declassified, written by Leah and, again, released by Z2 Comics.

Leah is currently working on new projects for Z2 Comics, Liminal 11, and others.

Leah Moore is represented by James Wills at Watson, Little Ltd.