The Summer of Everything (Paperback)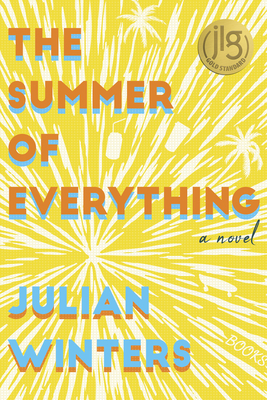 Description
---
 Adulting is hard. Just ask Wes Hudson. An avid comic book geek, Wes excels at two things: slacking off and pining after his best friend, Nico. Advice from his friends, '90s alt-rock songs, and online dating articles aren't helping much with his secret crush. And his dream job at Once Upon a Page, the local indie bookstore, is threatened when a coffee shop franchise wants to buy the property. To top it off, his family won't stop pestering him about picking a college major. When all three problems converge, Wes must face the one thing he's been avoiding—adulthood.
About the Author
---
Julian Winters is a best-selling and award-winning author of contemporary young adult fiction. His novels Running With Lions and How to Be Remy Cameron (Duet, 2018 and 2019 respectively), received accolades for their positive depictions of diverse, relatable characters. Running With Lions is the recipient of an IBPA Benjamin Franklin Gold Award. How to Be Remy Cameron was named a Junior Library Guild Gold Standard selection and received a starred review from School Library Journal. A former management trainer, Julian currently lives outside of Atlanta where he can be found reading, being a self-proclaimed comic book geek, or watching the only two sports he can follow—volleyball and soccer. His third novel for Duet Books, The Summer of Everything, will be released in September 2020, to be followed by Right Where I Left You from Viking Children's/Penguin in 2022.
Praise For…
---
"I always smile my way through a Julian Winters book. Remy's story of self-discovery is empowering and lovely." —Adam Silvera, NYT bestselling author of What If It's Us on How to Be Remy Cameron

"Winters does it again: a book about friendship, love, community, and the sometimes meandering path to adulthood, all in a great bear hug of a book that will keep your summer going." —L.C. Rosen, author of Camp

"Endearing...Wes's problems are lifelike, and he's surrounded by eccentric, supportive, and inspiring friends who challenge and encourage him." —Karen Rigby, Foreword Reviews

"This appealing book is hipper than hip (if it's still hip to say hip), replete with au courant words like dope, noob, rad, chill, and sick, and boasts–er, hella likable, no, make that lovable characters, who are complex and beautifully realized. Winters (How to be Remy Cameron, 2019) clearly covers his bases ethnically and sexually—Wes is Black and biracial and Nico is Mexican American, while other characters identify as lesbian, aroace, and bisexual—but believably and welcomingly so. The resulting combination of rom-com and coming-of-age novel is an absolute delight from beginning to end and is highly recommended." —Michael Cart, Booklist

"VERDICT Hand this book to fans of realistic fiction looking for a quick, mostly light read that is full of heart." —Mindy Rhiger, School Library Journal​

"As always, Julian Winters is here to tug at our heartstrings with a wildly endearing ensemble cast of lovable queer geeks. ... If you're looking for an achingly relatable coming-of-age love story (with Empire Records vibes for days), look no further." —Becky Albertalli and Adam Silvera, NY Times bestselling authors of What If It's Us?