Winter Love (Paperback)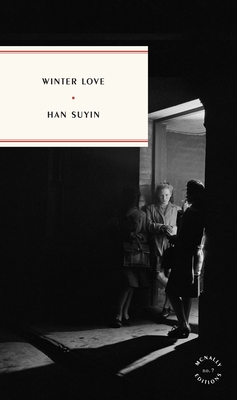 Description
---
The raw account of a life-altering affair in wartime London—"Han Suyin's outstanding achievement . . . her finest novel." (Alison Hennegan)

As a college student in London during the bitterly cold winter of 1944, Red falls in love with her married classmate Mara. Their affair unleashes a physical passion, a jealousy, and a sense of self-doubt that sweep all her previous experiences aside and will leave her changed forever. Set against the rubble of the bombed city, in a time of gray austerity and deprivation, Winter Love recalls a life at its most vivid. "Probably the best thing she has ever written" (Daily Telegraph), it is also Han Suyin's most unexpected, tender, and stirring work.
About the Author
---
Han Suyin (ca. 1917–2012) was born to a Chinese father and Belgian mother in Xinyang in the north-central province of Henan. She qualified as a doctor in London, thereafter moving to Hong Kong. The success of her novel A Many-Splendored Thing (1952)—adapted into the Hollywood film Love Is a Many-Splendored Thing, starring William Holden and Jennifer Jones—enabled her to give up her medical career and focus on her writing. She went on to publish more than thirty books, including novels, memoirs, biographies, and volumes of cultural and political history.
Praise For…
---
"The private world of bliss, frustrations, lies and substitutes involved in a love outside the canon of western mores is bitterly and movingly told."
— TIMES LITERARY SUPPLEMENT

"The volatile emotions at work in an all-female college, the bulk of whose students are still close to their mainly genteel schooldays, may seem ludicrously removed from the brutalities perpetrated by the blueshirts and brownshirts of fascist China and Germany. But part of Han Suyin's purpose is to suggest the connections between the cruelties and betrayals of private life and the larger horrors of world conflicts . . . a magnificent study of the genesis and mechanism of what we might now call internalized self-oppression, although the book was written years before the phrase was current . . . [It is] Han Suyin's outstanding achievement . . . her finest novel."
— Alison Hennegan

"A remarkable performance . . . A novelette only in its length."
— Anthony Quinton