Mostly Dead Things (Paperback)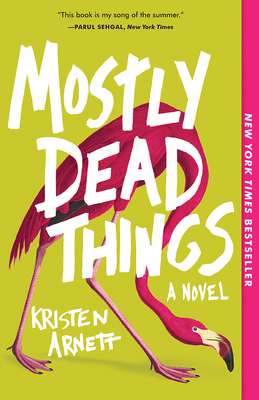 June 2019 Indie Next List
---
"After her father commits suicide, Jessa is tasked with saving her family's taxidermy business from going bankrupt. She also has to take care of her family's strange problems — including her mother's affinity for turning their taxidermy into risqué works of art. Mostly Dead Things is a fun, eccentric book with a steamy lesbian romance, ongoing sibling rivalry, and dark confessions of a family that is willing to go the mile in order to make ends meet. Stuffed with humor, heartfelt moments, and some gritty bits, Arnett's writing will make you laugh, cry, and wonder how an author's first novel can be so engaging and well-written!"
— Sage Cristal, UC San Diego Bookstore, La Jolla, CA
Summer 2020 Reading Group Indie Next List
---
"Kristen Arnett's Mostly Dead Things is a unique and charismatic story that winds its way through family matters, personal strife, and most important of all: taxidermy. Great for fans of Karen Russell's Swamplandia!"
— Delany Holcomb, Bookmarks, Winston-Salem, NC
Description
---
The celebrated New York Times Bestseller
A Best Book of the Year pick attheNew York Times,NPR,The New Yorker,TIME,Washington Post,Oprahmag.com,Thrillist,Shelf Awareness, Good Housekeeping and more.
What does it take to come back to life? For Jessa-Lynn Morton, the question is not an abstract one. In the wake of her fathers suicide, Jessa has stepped up to manage his failing taxidermy business while the rest of the Morton family crumbles. Her mother starts sneaking into the taxidermy shop to make provocative animal art, while her brother, Milo, withdraws. And Brynn, Milos wifeand the only person Jessas ever been in love withwalks out without a word. Its not until the Mortons reach a tipping point that a string of unexpected incidents begins to open up surprising possibilities and second chances. But will they be enough to salvage this family, to help them find their way back to one another? Kristen Arnetts breakout bestseller is a darkly funny family portrait; a peculiar, bighearted look at love and loss and the ways we live through them together.
About the Author
---
Kristen Arnett is a queer fiction and essay writer. She won the 2017 Coil Book Award for her debut short fiction collection,Felt in the Jaw, and was awardedNinth Letters 2015 Literary Award in Fiction. She lives in Florida. Follow her on Twitter @Kristen_Arnett.
Praise For…
---
Arnett possesses all the bravery her characters dream of. Theres none of the shyness and self-consciousness of so much American fiction that masks itself as austerity. She writes comic set pieces to make you laugh, sex scenes to turn you on. The action flips from the past to the present, swimming through first love and first grief on a slick of red Kool-Aid and vodka, suntan oil and fruity lip gloss, easy and unforced. This book is my song of the summer.
— Parul Sehgal - The New York Times

Mostly Dead Thingsis very Florida, very gay, and very good... a rock-solid family novel, brightened by its eccentric milieu.
— Entertainment Weekly

It's darkly funny, both macabre and irreverent, and its narrator is so real that every time I stopped reading the book, I felt a tiny pull at the back of my mind, as if I'd left a good friend in the middle of a conversation.
— Ilana Masad - NPR

The writing is subtle and meditative, with the tactile weight of dense fur . . . taxidermy can, Arnett argues, bring us closer to life . . . . Arnett, transposing the metaphor out of the horror genre, closes the distance between viewer and viewed. She takes taxidermy seriously as a craft, not just as a device; she makes it real and intimate . . .it gives readers a fresh way to think about fiction itself, which lives, or half lives, on the rippling cusp of the real.
— The New Yorker

Precisely as strange, riotous, searing, and subversive as youd want it to be. And, yes, its humor is as dark and glinting as the black plastic eye of a taxidermy ferret. . . . [A] celebration of the strangeness of life and love and loss, all of it as murky as a Florida swamp but beautiful in its wildness.
— NYLON

Mostly Dead Thingssuggests, above all else, that love is not something to be conquered, killed, skinned and mounted. It is living, and a verb. What we do for love be it build erotic buffalo sculptures in grief-stricken homage, steal peacocks, raise someone elses children, collect roadkill is so much more powerful than what we think about it.
— San Francisco Chronicle

Set in a richly rendered Florida and filled with delightfully wry prose and bracing honesty, Arnetts novel introduces a keenly skillful author with imagination and insight to spare.
— Publishers Weekly

Arnett depicts the Morton familys struggles with tenderness and humanity, as well as streaks of deliciously black humor. Far more than just a book-length Florida Man story, Mostly Dead Things broke our hearts in the best possible way.
— Apple Books

Arnett is a talented and original writer, and everybody paying attention to her work will be eagerly awaiting whatever else she has in store.
— Shelf Awareness, starred review

Hilarious, deeply morbid, and full of heart.
— BuzzFeed

Its the kind of book that sneaks up on you, the kind you read until you realize you have to pee or that the light has left the room. Her writing is accessible and feels like reading a thought from your own brain you werent aware of thinking, tapping into experiences of adulthood and gayness and ongoing that you might think you were the only one to have.
— Autostraddle

Mostly Dead Things is a phenomenal novel about family, taxidermy, and queerness. Youll devour this bizarre, brilliant book.
— Hello Giggles

This slice of Sunshine State gothic has instant classic written all over it. Everything you find both weird and beautiful about Florida has been packaged up and turned into one of this years best debut novels.
— Inside Hook

An ambitious debut writer with extraordinary promise, Arnett brings all of Florida's strangeness to life through the lens of a family snowed under with grief.
— Kirkus

An incisive and peculiar study of grief. ... Arnett writes about how we have to overcome our first understanding of the world in order to process it as an adult. She uses the language of taxidermy to explore the memories that ripple beneath our longest held beliefs.
— the Star-Tribune

"More than about death, it is also a novel about intimacy and wanting what is forbidden, about childhood and family, about absent parents and absent lovers, and about the secondhand self-destruction that can be wrought by ignoring cries of the heart."
— America Magazine

A worthy addition to the new Florida canon: a highly engrossing, extremely promising, sad, and very funny first novel about sex and death.
— Boston Globe

Mostly Dead Thingsis one of the strangest and funniest and most surprising first novels Ive ever read. A love letter to Florida and to family, to half-lit swamps and the 7/11, and to the beasts that only pretend to hold their poses inside us. In Kristen Arnetts expert hands, taxidermy becomes a language to capture our species impossible and contradictory desire to be held and to be free.
— Karen Russell, author of SWAMPLANDIA!

If Heather Lewis and Joy Williams had a child it might be thisI dont think Ive ever read a novel like it. Theres a gunslinger cool to every sentence, like someone is telling you the last story theyll ever tell you. Kristen Arnett is the queen of the Florida no one has ever told you about, and on every page she brings it to a steely and vivid life.
— Alexander Chee, author of HOW TO WRITE AN AUTOBIOGRAPHICAL NOVEL

Mostly Dead Things packs messed-up families, scandalous love affairs, art, life, death and the great state of Florida into one delicious, darkly funny package. Kristen Arnett is wickedly talented and a wholly original voice
— Jami Attenberg, author of ALL GROWN UP

Kristen Arnett has written a portrait of an American family grieving their dead and their living, and lovingly tearing one another to shreds in the process. Too, this is a book about salvaging, about the Mortons refusal to abandon what remains, to be buoys and co-conspirators for one anothers hearts.Mostly Dead Thingsis a vicious and tender beast, alive with wry humor and the undeniable beauty of the ways we love.
— Danielle Lazarin, author of BACK TALK