A Map Is Only One Story: Twenty Writers on Immigration, Family, and the Meaning of Home (Paperback)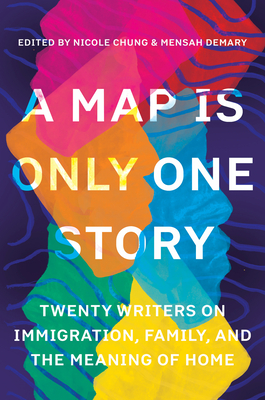 $16.95

Not In Store - Available to special order for pickup or ship. For even speediest shipping we suggest our Bookshop.org page!
Description
---
From rediscovering an ancestral village in China to experiencing the realities of American life as a Nigerian, the search for belonging crosses borders and generations.

Selected from the archives of Catapult magazine, the essays in A Map Is Only One Story highlight the human side of immigration policies and polarized rhetoric, as twenty writers share provocative personal stories of existing between languages and cultures.

Victoria Blanco relates how those with family in both El Paso and Ciudad Juárez experience life on the border. Nina Li Coomes recalls the heroines of Japanese animator Hayao Miyazaki and what they taught her about her bicultural identity. Nur Nasreen Ibrahim details her grandfather's crossing of the India-Pakistan border sixty years after Partition. Krystal A. Sital writes of how undocumented status in the United States can impact love and relationships. Porochista Khakpour describes the challenges in writing (and rewriting) Iranian America. Through the power of personal narratives, as told by both emerging and established writers, A Map Is Only One Story offers a new definition of home in the twenty-first century.
About the Author
---
Nicole Chung is the author of All You Can Ever Know, a contributing writer and editor at The Atlantic, and Catapult's former digital editorial director.

Mensah Demary is a founding editor of Catapult magazine and an editor at Catapult books.
Praise For…
---
"How do we define home? The 20 voices in this essay collection seek to articulate what it feels like to live between cultures. From stories about being undocumented in the U.S. to living on the border with Mexico, these personal narratives delve into the challenges―and power―that we derive from our connections to place." ––Annabel Gutterman, Time

"This powerful first anthology from Catapult magazine features twenty writers sharing their stories of migration, family and what home means to them." ––Ms.

"A collection of 20 essays on immigrant and immigration experiences, A Map Is Only One Story will move you with its global depictions of life across borders." ––K. W. Colyard, Bustle

"In this stunning collection, the debut anthology from Catapult magazine, each writer invites you alongside them as they contend with unnatural borders and their devastating consequences, which hide in plain sight in our daily lives in America. Without the necessity of an outside voice to translate their experiences for the public, the writers let their stories be complex, but even that word seems to do a disservice to their work. Refusing clean narratives, these stories dig deep and entangle themselves in ways that, once you walk through the mist of otherness that words like 'immigrant' and 'undocumented' inspire, you will find are deeply human, deeply relatable, and merely circumstantial . . . These writers prove that the idea of the faceless, voiceless brown mass is the biggest lie yet." ––Frances Nguyen, Electric Literature

"A moving, deeply personal examination of what it can mean to be an immigrant―or the child of immigrants or even the grandchild of immigrants . . . A Map Is Only One Story reminds readers that the collective gaze isn't passive. It has power to connect as well as to limit." ––Bridey Heing, Paste

"Twenty writers from Catapult magazine cross borders and straddle cultures as they provocatively, vulnerably examine 'immigration, family, and the meaning of home.'" ––Terry Hong, Shelf Awareness

"A vast, astute collection exploring questions of identity and belonging. A Map Is Only One Story is about margins, ideas of home, migration, and the violence of borders, but it's also so capacious that it's impossible to summarize. Candid and devastating." ―R. O. Kwon, author of The Incendiaries

"Moving and intimate. These disparate voices come into their power when they reach beyond the broken self toward something greater―love, kindness, family―even as homes are lost, pride shattered, identities remade." ―Dina Nayeri, author of The Ungrateful Refugee

"A Map Is Only One Story has a kaleidoscopic effect, breaking our image of the world with fixed borders and identities to create something new again and again. In this anthology, finding home is more than just a search for a place, but for a way to exist. Funny, poignant, and thought-provoking." ―Akil Kumarasamy, author of Half Gods