Rough Magic: Riding the World's Loneliest Horse Race (Paperback)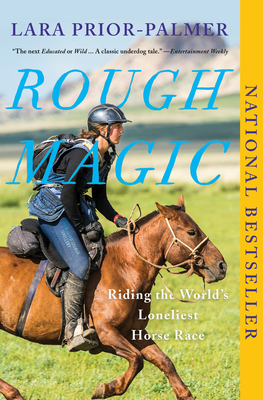 Staff Reviews
---
This true story of the youngest woman to ever win the longest, hardest horse race in the world takes you on a literal wild ride. The horse race is intense in its physicality and in the sense of community of those who have been racing for years. We get to experience this all with Lara -- a young woman and newcomer who has an outsider's take on the race she finds herself part of. I was never a "horse girl" and yet with Lara's journey found myself pulled into her world.
— Abby
May 2019 Indie Next List
---
"Lara Prior-Palmer's journey in the Mongol Derby is one of excitement, pain, and profound inner dialogue. There was not a moment in this fast-paced memoir where my attention wavered. Prior-Palmer weaves a coming-of-age tale with expert grace and worldly knowledge alongside an intensely riveting competition against herself and the land. Rough Magic is a fantastically written and introspective memoir worthy of great praise."
— Travis McGuire, Skylark Bookshop, Columbia, MO
Description
---
"Think the next Educated or Wild. Palmer's memoir of beating the odds to become a horse champion is an inspiring saga of perseverance—and a classic underdog tale." —Entertainment Weekly

At the age of nineteen, Lara Prior–Palmer discovered a website devoted to "the world's longest, toughest horse race"―an annual competition of endurance and skill that involves dozens of riders racing a series of twenty–five wild ponies across 1,000 kilometers of Mongolian grassland. On a whim, she decided to enter the race. As she boarded a plane to East Asia, she was utterly unprepared for what awaited her.

Riders often spend years preparing to compete in the Mongol Derby, a course that re–creates the horse messenger system developed by Genghis Khan. Many fail to finish. Prior–Palmer had no formal training. She was driven by her own restlessness, stubbornness, and a lifelong love of horses. She raced for ten days through extreme heat and terrifying storms, catching a few hours of sleep where she could at the homes of nomadic families. Battling bouts of illness and dehydration, exhaustion and bruising falls, she decided she had nothing to lose. Each dawn she rode out again on a fresh horse, scrambling up mountains, swimming through rivers, crossing woodlands and wetlands, arid dunes and open steppe, as American television crews chased her in their jeeps.

Told with terrific suspense and style, in a voice full of poetry and soul, Rough Magic captures the extraordinary story of one young woman who forged ahead, against all odds, to become the first female winner of this breathtaking race.

"Taking off on a horse into the Mongolian Steppe sounds like the bracing inverse to an overpopulated, busy urban life, but having the skills and grit to pull it off is another thing entirely. . . . Lara Prior–Palmer attempted the Mongol Derby not really knowing what she was getting into; she ended it knowing much more about herself, and a race champion besides." ―Estelle Tang, Elle
About the Author
---
LARA PRIOR–PALMER was born in London in 1994. She studied conceptual history and Persian at Stanford University. In 2013, she competed in the 1,000–kilometer Mongol Derby in Mongolia, sometimes described as the world's toughest and longest horse race, and became the first woman to win the race, and the youngest person ever to finish. Rough Magic is her first book.
Praise For…
---
NATIONAL BESTSELLER
Winner of the Steppes Travel Adventure Travel Book of the Year Award
One of Esquire's Best Nonfiction Books of 2019

"If you like your memoirs to revolve around singular experiences, Lara Prior–Palmer's Rough Magic delivers." —John Williams, The New York Times

"This is no fresh–forged mythic hero, but rather a young woman who's still doubting, still equivocating about her right to seek greatness . . . As Prior–Palmer senses on her journey, reconciling the wisdom of the everyday with the instinct for timelessness and mythmaking is a life's work—work to which Rough Magic is an engaging guide." —Ellie Robbins, The Washington Post

"Excellent prose and rigorous honesty . . . An unusual pleasure to read . . . Prior–Palmer writes with a dash and boldness few writers possess; her language seems sui generis . . . Her narrative alchemy is remarkable; in every chapter, she turns boredom to suspense and back again. The Derby is at once heart–stoppingly close and a miserable slog to which we already know the ending. That shifting—heroism to comedy, glamour to stinking holes in the ground—creates a tension far more interesting than the question of who's going to win the race, or how." —Lily Meyer, NPR

"[Prior–Palmer's] prose is poetic, and while the race and Monolian landscape are conjured beautifully and intensely, the book's emotional impact lies in the nuanced portrait of its subject searching for answers beyond the life she's lived so far." —David Canfield, Entertainment Weekly

"In this sensual, spiritual memoir, Prior–Palmer recounts her grueling journey through immense physical hardship, and her surprising transformation from underdog to champion." —Adrienne Westenfeld, Esquire

"Page by page, Prior–Palmer tunes us in, slows us down to her speed, to pony paces, and we begin to attend to the present moment just as she does . . . At every turn, Prior–Palmer's writing is brilliant and clear–eyed and demonstrates more wisdom than any philosopher's theories . . . Presenting such an awe–inspiring page–turning narrative that plumbs the depths of all that's to be found in the present moment—the body, mind, and soul—while dissembling one's own ego with tender rigor is Rough Magic's finest achievement. Lara Prior–Palmer is a writer to watch." —Abby Travis, San Francisco Chronicle

"A gripping, self–searching, triumphant debut memoir . . . The winning vulnerability on display . . . throughout this exceptional coming–of–age tale keeps the pages turning and the reader rooting for this unlikely heroine . . . A breathtaking ride." —Kathleen Rooney, Star–Tribune (Minneapolis)

"Charming, self–aware, and mercifully devoid of clichés, it's just the sort of breezy travel memoir we've been looking for." —Lale Arikoglu, Condé Nast Traveler

"We are all lucky she did write it, because it's the rare read that offers what Rough Magic does: a type of pure exhilaration, the kind that snakes through your body in moments both still and hurried. Reading it is a visceral, sensorially charged experience; a, yes, rough and magical ride through one of the planet's most desolate landscapes, and into the mind of a young woman whose fearlessness and curiosity take her—and us—to countless unexpected places." —Kristin Iversen, NYLON

"First–time author Prior–Palmer transforms from hopeless 19–year–old underdog into surprising champion of the grueling 2013 Mongol Derby in this exhilarating, visceral account of her attempt to win a 1,000–kilometer horse race across the Mongolian countryside . . . Filled with soulful self–reflection and race detail, this fast–paced page–turner is a thrill ride from start to finish." —Publishers Weekly (starred review)