Golden Heart Parade (SFWP Literary Awards) (Paperback)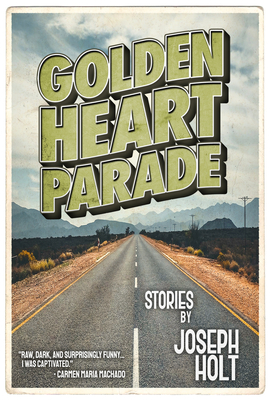 Description
---
"Raw, dark, and surprisingly funny...there's so much precision and verve in these stories; I was captivated the entire way through." - Carmen Maria Machado

The misfits and mavericks in this award-winning story collection shuffle their feet to a soundtrack of rumble strips and twangy AM radio. Here, the underdog is king and the outsiders are storming the gates. A plucky daughter defends her father by swinging a paint can like a mace, teenage renegades sow terror on the highway by throwing cups of root beer, and an out-of-work lawyer steamrolls his way through a recreational sports league. For these loners and screwballs, the path to redemption is often twisted, heartfelt, and humorous.

These stories will take you from the karaoke bar to the natural foods co-op, from a city-league broomball game to a broken-down camper in the woods. In lush and lucid prose, Holt explores emotional landscapes that reflect the vast terrain of America's heartland. Woven throughout is a series of flash-fiction parables, which narrate a journey both exotic and existential. So pull up a seat among this motley crew of barflies, road workers, and art school dropouts, and you might later find yourself retelling their stories as your own.
About the Author
---
Joseph Holt's writing has appeared in The Sun, The Saturday Evening Post, Prairie Schooner and elsewhere. He graduated from the Center for Writers at the University of Southern Mississippi, where he also received an AWP Intro Journals Award in fiction. Holt has taught at Catapult, the Loft Literary Center, the American College of Norway and the University of Minnesota. He now serves on the MFA faculty at the University of Alaska Fairbanks. Holt is an active marathoner and host of North Star Nugs, a radio show featuring jam band music. Find him at: holt.ink.
Praise For…
---
"Raw, dark, and surprisingly funny...there's so much precision and verve in these stories; I was captivated the entire way through." —Carmen Maria Machado

"The unpredictable stories of Golden Heart Parade hurtle through startling surprises and sharp turns...we're often caught just where moments of desperation could lead to bad decisions, to laughter, or both." —Peter Rock, Author of The Night Swimmers and My Abandonment (adapted to film as Leave No Trace)

"Like Richard Ford in Rock Springs, Holt tells the stories of people with hard lives, who keep fighting even when the odds are against them. His characters are always compelling, and their stories are rich and crazy and off the rails." —Mary Grimm, author of Left to Themselves and Stealing Time

"Golden Heart Parade introduces characters in mutiny against themselves and the status quo. These stories are comic and heartbreaking." —Elizabeth McKenzie , author of MacGregor Tells the World, and an editor for Chicago Quarterly Review and Catamaran Literary Review

"Golden Heart Parade is searing, funny, surprising. The stories these characters tell about themselves—and re-tell about themselves—change in compelling and unexpected ways." —Lee Conell, author of Subcortical and The Party Upstairs

"The narrators in Golden Heart Parade are my favorite kind of floundering misfits—the underemployed, wanderers and dreamers, wait-and- see-ers. A tender and surprising collection with sharp prose and even sharper dialogue that I'll revisit again and again." —Mary Miller, author of Biloxi, Always Happy Hour, The Last Days of California, and Big World

"This strangely moving debut collection from Holt offers up a motley mix of broken characters in stories about America's heartland. . . .  Unexpected humor abounds . . .  cutting through the raw emotions, minimalist narrative, and snappy dialogue. Holt's gaze falls on grit and grime, but he writes with plenty of heart." Publishers Weekly

"In lush and lucid prose, Golden Heart Parade navigates emotional landscapes that reflect the vast terrain of America's Heartland." —Atomic Books