Singer Distance (Hardcover)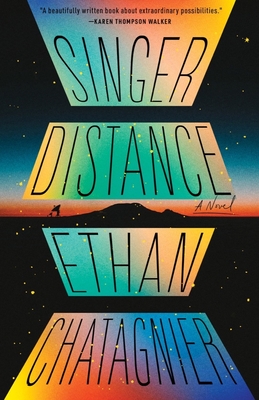 $27.95

On Our Shelves Now - Click to see location, time, and stock details
Description
---
An NPR, The Millions, and PopSugar Best Book of 2022
A Vulture, Tor.com, LitHub, Philadelphia Inquirer, Debutiful, DailyHive, Gizmodo, and ALTA Journal Best Book of Fall
CALIBA Golden Poppy Award Winner

"Surprising, captivating, surpassingly intelligent."—Kevin Brockmeier, author of The Ghost Variations 
For fans of Station Eleven and Light from Other Stars, Ethan Chatagnier's propulsive, genre-bending debut novel asks: what happens when we discover intelligent life just next door? And what does it really mean to know we're not alone in the universe?
The odds of the planet next door hosting intelligent life are—that's not luck. That's a miracle. It means something.
In December 1960, Crystal Singer, her boyfriend Rick, and three other MIT grad students take a cross-country road trip from Boston to Arizona to paint a message in the desert. Mars has been silent for thirty years, since the last time Earth solved one of the mathematical proofs the Martian civilization carved onto its surface. The latest proof, which seems to assert contradictory truths about distance, has resisted human understanding for decades. Crystal thinks she's solved it, and Rick is intent on putting her answer to the test—if he can keep her from cracking under the pressure on the way. But Crystal's disappearance after the experiment will set him on a different path than he expected, forever changing the distance between them.
Filled with mystery and wonder, Ethan Chatagnier's Singer Distance is a novel about ambition, loneliness, exploration, and love—about how far we're willing to go to communicate with a distant civilization, and the great lengths we'll travel to connect with each other here on Earth.
About the Author
---
Ethan Chatagnier's stories have appeared in the Kenyon Review, Georgia Review, and New England Review, and been listed as notable in The Best American Short Stories. A Pushcart Prize winner, he is the author of the story collection Warnings from the Future and lives in Fresno, California, with his family.
Praise For…
---
Entrancing. . . . Chatagnier writes with a real compassion and sensitivity—this is a love story at its heart, one that's both beautiful and unforgettable.
— NPR Books

A novel of twin obsessions. . . . romantically attracted to the discovery of a new mathematical system for understanding intimacy and communication.
— The Wall Street Journal

The best kind of literary sci-fi, the kind of novel that makes the reader appreciate the mystery and beauty of our little, infinite universe.
— The Millions

A worthy addition to books that revisit the past with some property of the natural world fundamentally altered, like several Ted Chiang stories [and] Catherynne M. Valente's Radiance.

— Tor.com

Clever.
— Vulture

Nifty. . . . Singer Distance feels like a recent, character-driven indie film in the vein of Safety Not Guaranteed or Seeking a Friend for the End of the World.

— Philadelphia Inquirer

Chatagnier is a beautiful writer. . . . This is a wondrous reading experience, a thoughtful and provocative encounter with literary artistry that is to be savored.
— Locus

At once intimate and universal. . . . Uses artfully sketched characters to explore the difficulties of meaningful connection—not just with far-away planets, but also with each other. If you are a huge fan of Erica Swyler's Light from Other Stars, be sure to give this one a go.

— Mystery Scene Magazine

Richly drawn and explores a heartfelt perspective on the theme of connection.
— PopSugar

Atmospheric. . . . an exploration of ambition, loneliness, and love.
— DailyHive

Absorbing. . . . Timeless. . . . a beautiful musing on science and philosophy and how to measure physical and emotional distance.
— Historical Novel Society

Fascinating. . . . One remarkable feature of this wonderful novel is its cinematic atmosphere. . . . [Chatagnier's] infectious imagination is sure to appeal to many readers.
— Las Vegas Review of Books

Soaring. . . . Excellent. . . . The elements of astronomy, numerology, love, and the possibility of extraterrestrial life are structured perfectly. . . . Readers are in for a memorable adventure.
— Publishers Weekly, Starred Review

Exquisite. . . . Its turns are both intelligent and magical, and its surprises are heartbreaking and boundary-testing. . . . The most arresting science fiction novel in recent memory.
— Foreword Reviews, Starred Review

Compelling.
— Library Journal

Lyrical writing and a suspenseful story.
— Kirkus Reviews

Captivating. . . . perfectly blends genres throughout the page-turning plot.
— Debutiful

Blending mathematics, theoretical physics, philosophy, and passion, Chatagnier has concocted a compelling science fiction yarn that will also appeal to general fiction readers.
— Booklist

Singer Distance is a surprising, captivating, surpassingly intelligent novel, and I mean it as a great compliment when I say that I'm not quite sure where it came from. The narrator who leads us through its pages insists that he is one of the world's carpenters rather than one of its architects, but the reality that surrounds him is extraordinary, and so too, therefore, is his story. On the macroscale, it's a story about the interpersonal pathways that connect one planet to another and the interplanetary gaps that separate one heart from another; on the microscale, about what it feels like to occupy a single life, and how difficult it is to tell, when you're in the middle of it, whether that life is being wasted or fulfilled.

— Kevin Brockmeier, author of The Ghost Variations

Imaginative and brainy, this is a beautifully written book about one of my favorite subjects: extraordinary possibilities.
— Karen Thompson Walker, author of The Dreamers

An achingly beautiful look at living in the shadow of genius, science, math, and loving the difficult to love. Chatagnier looks at the sky and people with equal wonder, and the result is deeply moving. Singer Distance is a book for readers of Sagan, lovers of paradoxes, anyone who has ever looked up. This truly gorgeous novel will live with me for a long time.

— Erika Swyler, author of Light from Other Stars

Ethan Chatagnier's Singer Distance is one of the rarest and best kinds of novels: a truly thrilling story driven by big ideas and bold writing, whose gripping mysteries only deepen as the plot thickens. You won't see the stars and the planets above the same way once you've experienced this unforgettable book. You won't look at our Earth the same way either.

— Matt Bell, author of Appleseed

Resonant and beguiling.
— Ken Kalfus

Singer Distance pulled me in from the very first page. I fell in love with the characters—who are full of mettle, vitality, and human chaos—and the audacity of the book's alternate history, wherein contact has been made with a civilization on Mars, but that contact leaves humanity with more questions than answers about the nature of the universe. This book is a love song to our desire for understanding, the scientific drive for progress, and the thread of faith that runs through both. An outstanding debut novel.

— Adrienne Celt, author of End of the World House

An inventive and heartfelt novel about the search to understand both the universe and ourselves. The best sort of mystery, one with big ideas at its center.
— Kate Hope Day, author of In the Quick