How to Turn Into a Bird (Paperback)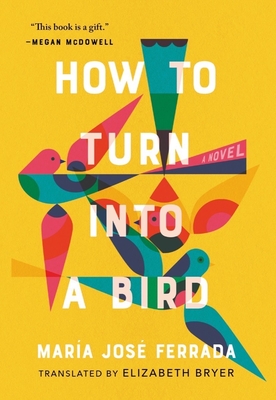 $16.95

On Our Shelves Now - Click to see location, time, and stock details
Description
---
A Washington Post and Ms. Magazine Best Book of December

"This book is a gift." —Megan McDowell
From the award-winning author of How to Order the Universe, María José Ferrada beautifully details the life and lessons of an unconventional man and the boy who loves him. 
After years of hard work in a factory outside of Santiago, Chile, Ramón accepts a peculiar job: to look after a Coca-Cola billboard located by the highway. And it doesn't take long for Ramón to make an even more peculiar decision: to make the billboard his new home.
Twelve-year-old Miguel is enchanted by his uncle's unusual living arrangement, but the neighborhood is buzzing with gossip, declaring Ramón a madman bringing shame to the community. As he visits his uncle in a perch above it all, Miguel comes to see a different perspective, and finds himself wondering what he believes—has his uncle lost his mind, as everyone says? Is madness—and the need for freedom—contagious? Or is Ramón the only one who can see things as they really are, finding a deeper meaning in a life they can't understand from the ground?
When a local boy disappears, tensions erupt and forgotten memories come to the surface. And Miguel, no longer perched in the billboard with his uncle, witnesses the reality on the ground: a society that, in the name of peace, is not afraid to use violence.With sharp humor and a deep understanding of a child's mind, How to Turn Into a Bird is a powerful tale of coming of age, loss of innocence, and shifting perspectives that asks us: how far outside of our lives must we go to really see things clearly?
About the Author
---
María José Ferrada
's children's books have been published all over the world. Her first adult novel,
How to Order the Universe
, has been translated into nine languages. Ferrada has been awarded numerous prizes and is a three-time winner of the Chilean Ministry of Culture Award.
How to Turn Into a Bird
received the Chilean Art Critics Circle Award. She lives in Santiago, Chile.
Elizabeth Bryer is a translator and writer from Australia. Her translations include Claudia Salazar Jiménez's Americas Prize–winning Blood of the Dawn; Aleksandra Lun's The Palimpsests, for which she was awarded a PEN/Heim Translation Fund grant; and José Luis de Juan's Napoleon's Beekeeper. Her debut novel, From Here On, Monsters, was co-winner of the 2020 Norma K. Hemming Award.
Praise For…
---
A tender coming of age tale.
— The Washington Post

Enchanting. . . . As in Ferrada's past work, this one has much to say on themes of acceptance, conformity, and societal expectations.
— Publishers Weekly

Provides remarkable insight. . . . The theme of the value and place of nonconformity in today's society will ring true.
— Library Journal

Touching and transfixing.
— Ms. Magazine

Reveals the kindnesses and cruelties that humans are capable of.
— San Francisco Chronicle

Enchanting.
— Book Riot

A masterful, provocative, and timely artwork that shows what can happen to those who risk a life of freedom that diverges from the norm.
— Ploughshares

Fascinating.
— Chicago Review of Books

Sharp, sweet, compelling. . . . a delightful and propulsive read.
— Powell's Books

Timeless and deeply resonant. . . . This book reminds readers that to allow yourself to be different from the rest of the world is a rare and beautiful thing, no matter the risks.
— The Independent Book Review, Starred Review

Here is a master storyteller.
— The Adroit Journal

Excellent. . . . Ferrada, much like Jacqueline Woodson in Red at the Bone, knows that freedom may be found in the fetters of youth, allowing her readers to learn along with her characters.

— On the Seawall

A blissful escape. . . . Gorgeously detailed, layered, and a true pleasure to read.
— The Avocado Diaries

Exquisite.
— Historical Novel Society

Well worthwhile. . . . a carefully crafted poignant story.
— The Complete Review

How to Turn into a Bird takes a piercing look at how the human spirit can be nurtured, even set free, by curiosity and compassionate attention—or altogether quashed by fear and judgment. María José Ferrada and translator Elizabeth Bryer have created a vivid, poignant atmosphere, both mournful and tender.

— Robin Myers

With all the brutal simplicity of a fairy tale, María José Ferrada lays bare the blind and violent intolerance that reigns on the precarious outskirts of an unequal society. A deceptively simple tale in a sensitive translation by Elizabeth Bryer—this book is a gift to English-speaking readers.
— Megan McDowell